About Me
About Me is just to say hello to all those adventure travelers looking for the best places for rest, relaxation and escape.
Looking for a place to get away? Need some time to rejuvenate?
Maybe I can help!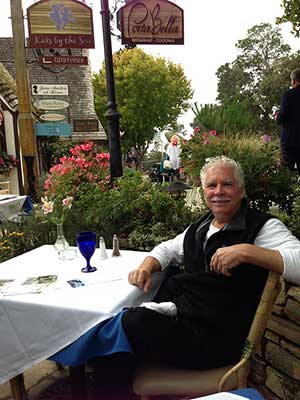 A little about me and why my team was motivated to write about this fairytale destination along the California Coast

About Me And My Team
It's been several years since I was married in Carmel and became enchanted with this beautiful setting.

We live nearby and visit many times a year and always enjoy the experiences of both the charm of Carmel and the adventure and wild reality of the California coastline. There is something here that make the real world fall away so you breathe deeper and really and I mean really feel what it's like to relax.
Whether your the personality that enjoys fine dining, relaxing spa treatment, golf and shopping, or the type that like to put your toes in the sand and on the trails that lie under ancient redwood trails...it's all here.
We created this website for all of you who might benefit from the "Been there...done that" experiences I have gathered over the years…the best beach walks and the not so well known places where the locals flock for breakfast.  
Carmel and the surrounding coast is gorgeous, and there are places you might not find on your own but are essential to truly enjoying this beach paradise. Few know of the only place on Carmel Beach where you can legally build a fire and roast smores.
Let us guide you to the best tips, secret spots and the inside scoop for this part of the California coast.
Come visit… think of us as your trusted advisor. Share your travels with my online blog community and post your favorite pictures and stories.
There is much to discover, so please join me in making this site a meeting place where we can all benefit from our own unique experiences.
This Is The Place
So… what are you waiting for?
Finding the right time to just leave our busy lives behind for awhile is a challenge, but  if you find that short ventures to new places nourishes your soul and strengthens your relationships then I know that perfect place to be at sunset, and the best cocktail anywhere within 50 miles.
See you there!
Dennis Craft   Editor Romantic Carmel Coast