Carmel Events on the California Coast You Don't Want to Miss
With so many Carmel events on the Monterey Peninsula, you might seriously wonder if there will ever be enough time to attend any of the many activities.
But in between elegant dining, beach walks and wine tasting, you really ought to consider a little time at one of the many events that occur year round in this beautiful stretch of the California coast from Monterey to Big Sur.
| | |
| --- | --- |
| Thousands of local residents and visitors alike, find themselves here not only for the natural beauty that seems to be everywhere, but also for some of the incredibly exciting events that take place throughout the year. Whether it's music, food or sand castle building, there is a rich variety of events taking place all year long. | |
 Build Your Own Sand Castle
Every year in September, Carmel celebrates the end of summer with this lighthearted but incredibly fun event on the beach. There is a unique theme every year that's disclosed only at the last minute and the contest is open to everyone.
Have some fun and bring all of your kitchen gadets that will sculpt, soften edges and embellish your sculpture.
This event is really fun. Stop by...I guarantee that this will put a smile on your face and memories in your camera.
Follow up your day on the beach with some fresh pastry at the Carmel Bakery on Ocean Avenue.
Attend A Masquerade Ball at the Carmel Mission
If your in Carmel in October, be sure to plan on attending the Masquerade Ball at the historic Carmel Mission. This is another one of those Carmel events that is sure to please especially since you don't get to go to one of these very often.



You might take advantage of this opportunity to try a little something different, and get one of those strange masks worn at these kinds of gatherings and be someone different for an evening!

Pretend your someone important, nibble on some tiny food and have a good time  being someone else for awhile.

Be sure to take lots of pictures of this. I can't wait to see.
Sunset Dining in a Vineyard
Occassionally, some of the many wineries in Carmel Valley, put together lavish evening dinners.
Chateau Julian often hosts fine dining events held in their keg room with over a thousand French and American oak barrels filled with wine. Sometimes dinners are held out in the vineyards as the evening sun is setting.

 

This is a gorgeous venue with vintage cars and romantically lit rooms. You will need to book well in advance as this event is very popular.

Run in the Big Sur Marathon or Relax With Smooth Jazz
Whether you choose to be a participant in the huge and world acclaimed Big Sur Marathon held in April every year or the visitor that would rather kick back, let the world go by, and lay on a blanket and absorb the sounds of the Monterey Jazz Festival, the Monterey Pop festival or the Monterey Bach Festival.
The Monterey Jazz Festival is the longest running music festival in the world, and usually attracts over 350 hundred artists and thousands of music hungry fans during September, who gather on twenty oak studded acres at the Monterey Fairgrounds for three days of musical celebration.
You can rent an RV at the festival, or bring your own, and park it right in the fairgrounds with close proximity to the eight stages where entertainers will be performing.
Enjoy legendary artists like George Benson, Bobby Mcferrin and Dave Holland.
Buy a day pass or a weekend pass and hear more jazz artists than anywhere else!
If you like Jazz, this is an event that can't be missed. 
Attend a Film Festival on the Beach
How about watching the creative efforts of filmmakers and artists right on the beach?  You could even attend a party, enjoy a little finger food food on the waters edge and rub elbows with those who created the specialty films you just saw.
You might even learn something that about the fine art of film making that gets up interested in making films of your own.
Moonlight Tours of an Historic Big Sur Lighthouse
Maybe you would rather consider a more relaxed approach and take a three hour moonlight docent tour of the Point Sur Lighthouse (Some say it's haunted) where restoration is in full swing. During the tour, you'll be able to see relics of the 1935 disaster that occured when the USS Macon crashed into the sea.
This helium filled dirigible, the size of a Boeing 747, crashed just off shore in full view of the light house keepers at the time.
Its just a short 19 mile drive from Carmel along some of the most beautiful scenery anywhere. Set on ranch land and amid grazing cows, you will hear the docents begin their tour, resting every 15 minutes or so to rest while they play recorded sounds of what some say are supernatural voices from inside the lighthouse.
The tour is only about $10 and who knows, you might see a ghost from one of the shipwrecks that occurred frequently along this coast.
 

 

 

Is it Haunted? Take a Moonlight Event Tour and See!

Summer Live Music Series
This is an event held at the Carmel Plaza for ten weeks during the summer that will cost you nothing, and my even put a the finishing touch on a perfect day. Music that covers pop, rock, funk and all in between will play beginning at 5PM and well into the evening.
Local restaurants and wineries will offer small bites for those who attend.
Come to this free event early and grab a standing room only spot on the second level of the mall for a great view of each set of performers.
Endless Possibilities for More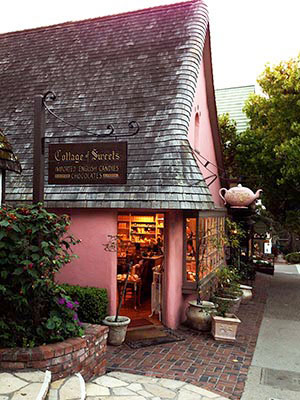 It doesn't matter when you visit this beautiful place.
There are always Carmel events that will add a little to your vacation experience. Each time you visit, you will learn something new, and become almost like a local...knowing more each visit about the many Carmel events and the little things that will make your trip so much more satisfying.
Little things... like sampling the best home made fudge in the world right down the street at The College of Sweets!