Hearst Castle for a Romantic Day Trip

Hearst Castle lies half way between San Francisco and Los Angeles California, and near San Simeon, on a hillside that William Randolf Hearst once called La Cuesta Encantada or "Enchanted Hill."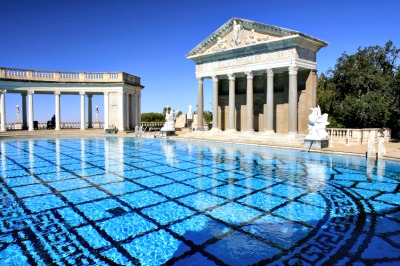 William Hearst inherited the 250 thousand acres from his mother and he quickly began to create a castle in the sky forged from his memories as a ten year old boy when traveling with his parents in Europe.
This landmark is now a California State Park landmark and is visited by thousands throughout the year. http://www.hearstcastle.org/?vm=r. 
Visitors have an opportunity to vist some of the 165 rooms and over 127 acres of gardens and pools.
"Build A Little Something"

Tours are available year round except for a few holidays and begin with a 5 mile bus ride up the hill to the castle. A large variety of tours are available and last from 1 to 2 hours.
Before you  do anything, be certain to see the 45 minute visitor Center movie "Hearst Castle Building the Dream."
http://www.hearstcastle.org/theater/.
You might be tempted to skip this movie but don't, because it is a well crafted video that sets the stage and allows you to better understand the vision for this estate and the dream of this well known political and social figure.
Within a few minutes, you are whisked back to the 1920's when life was a little different.
William used to "Camp" on the grounds with his family, and one day asked Julia Morgan a newly graduated civil engineering major from the University of Berkley in California to "Build him a little something"
Julia went on to be a master architect and even today is well known for her architectual heritage and the Arts and Crafts architectual movement.
Born in 1863, William Randolph Hearst was an only son. He was born into a wealthy family, schooled on the east coast and toured Europe with  his family. His father aquired the San Francisoco Examiner as a result of a gambling debt and so began the family history of wealth and political fame.
The castle was built but never truly was completed. Here hollywood celebrities, sports stars and political leaders were hosted by William Hearst in the "Great Room" where guests were firts visited after flying into the private airstrip on the castle grounds.
William moved from the "Castle" in 1947 when his health became a concern and he died a few years later in 1947. He was a robust and well remembered 88 years old.
Hearst Castle Tours

Of the many choices of tours at this unique castle, the garden tours are always popular.
The gardens were designed at William Hearst's request to be in color year round and they truly are. If your a fan of exotic flowers, art and beauty in general, you might well enjoy this tour. Thousands of annuals, perennials and bulbs have been planted to keep the gardens bright and alive with color.
Bougainvilleas are everyehere..many personally picked by William Hearst at a nursery in Santa Barbara Ca.
As you walk the gardens you will also see rhodedenron, foxglove and giant California Oaks.
The Grand Room tours are equally popular as guests are guided to the Grand Room where William Hearst greeted his affulent guests and provided only the best in cusine and accommodations.
Special tours are available at different times of the year. If your lucky, you may be to schedule a sunset tour in the Spring or Fall or even holiday tours around Thanksgiving and Christmas. The grounds and many of the rooms are decorated just like they would have been in the 1920's and 1930's.
Tickets are $25 for adults and children are $12. The ticket prices include the air conditioned bus ride to the castle.

For more info about recommended tours follow this link: http://www.hearstcastle.org/tour-hearst-castle/
There is More To See in San Simeon!

Piedras Blancas Lighthouse
This lighthouse still operates after 150 years of service. Built in 1870, you can take a tour all year long. Its a 2 hour tour that goes in detail about the history of this very interesting monumet on the southern California Coast.
Elephant Seals
Just a few miles north of Hearst Castle you'll find an especially entertaining beach that has been set aside for the 17,000 migrating elephant seals that have grown in huge numbers since 1990 when there were "Only a couple of dozen'' that had discovered this perfect place for rest.
These creature are enormous and lends to the name of elephant seals. These interesting but strange looking creatures adopted this area of the California Coast and are here all year long in varying numbers. January, April and October are the best months to see these giant creatures and docents will guide you along wooden boardwalks and fill you in on these creatures and their habits.
A word of warning is advised here as I learned the hard way.
I have personally seen how fast these creatures can move, so be careful if you come in close proximity. They look like they could ever outrun you, but you might be surprised and it wouldn't be good!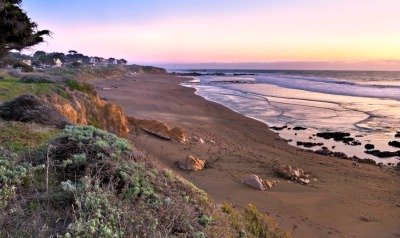 Beaches in San Simeon

There are a couple of beaches near the town of San Simeon that are not set aside for th eelephant seals and are great spots for a respite after the sometimes very crowded experience at Hearst Castle.
William Hearst Memorial B was donated by the late William Hearst and is a great place for long walks and a maybe a short venture out onto the pier that reaches out a couple of hundred feet into the ocean.
Moonstone beach is a little beach close to Hearst Castle Visitors Center http://www.hearstcastle.org/tour-hearst-castle/visitor-center/ and the charming town of Cambria. Looks like any other beach until you take a closer look. Tiny colored pebbles are what this beach is known for. 
Where To Stay While Visiting

If you want to stay near the ocean and perhaps even splurge for an ocean front room, you have many choices along the coast be to make it a little easier, I suggest you  decide between the towns of San Simeon and Cambria ...both have great ocean front locations.
The Best Western Plus Cavalier http://www.cavalierresort.com/?vm=r in San Simeon is a wonderfully relaxing place to stay and is within steps of the ocean and all of the wonderful sounds that come form the beach. Rooms are large, and service is a pleasant change from big city accommodations. 
The town of Cambria about 20 minutes south down the California Coast has some wonderful choicse right along moonstone beach.
The Fog Catcher http://www.fogcatcherinn.com/ is right on the water and always gets good reviews. 
The Blue Dolphin Inn http://www.cambriainns.com/bluedolphininn.html is close by and also on the water. Rooms are a little smaller and you might make sure you don't get a room facing the street. Try to snatch one of the few ocean view rooms if you can. 
It makes all the difference!

Hearst Castle is a wonderful destination if your traveling down the California Coast. If your returning to Carmel or Monterey after an overnight trip don't forget about the unique and wonderful restaurants that await.

More Fun Day Trip Ideas from the Monterey Penninsula
Home > Things To Do In Monterey California >  Hearst Castle