Carmel Restaurants for a Romantic Night Out

At last count, there were over one hundred Carmel restaurants in the one square mile tiny town of Carmel, and another four hundred restaurants scattered around the Monterey Peninsula and down the Big Sur coastline.
Charming, unique or up-beat, each one of these  boutique restaurants has it's own clever approach to preparing delicious food!
 

Visitors that come here to this area of the California Coast, as well as locals, come here for the gorgeous scenery...the magical ambiance and light of the Carmel area...

and yes they come for the food...

and not just any food, but the kind of food that brings them back again and again.

Enjoy Culinary Excellence 
As in most well traveled cities around the world, there are really great places to dine, and almost as many places where you should probably save your money.
Many vacations are made memorable by the conversations and experiences that occur while dining in small intimate restaurants where outstanding food and well paired wine or beverages are offered. The Carmel restaurants that are offered here for your consideration, meet all of those conditions.
It's an art form really, and sometimes savory food  can create the stage for a teriffic beginning to your few days of getaway escape.
It will come as no surprise, that some of the really great Carmel restaurants on the Monterey Peninsula are expensive, but in my opinion, when you weigh all the benefits, are well the investment of time and money.
How many of you still have fond memories that included great food and wonderful conversation?
How many had extended time over well prepared food that altered major decisions?
Choosing Your Best Restaurant
As exciting as good food can be, it can take weeks to research, find worthy possibilities and understand all the options. I doubt you have that kind of time.
As you take a closer look at these pages describing a variety of Carmel restaurants, you'll find a handful of restaurants all up and down the California Central Coast that I personally think are the best places to enjoy a memorable dinner.
So...my job is to narrow the overwhelming number of choices down to a handful of the best of the best for you. No matter whether you want the finest and most elegant dining experience, or a more affordable yet wonderful and satisfying meal, I think you will find what you need when you can arrange a visit.

It's no surprise as this tiny hamlet has a history of attracting those that enjoy gourmet food, whether it's multiple courses and French decadence at Anton and Michel's, or unique pasta primavera at PortaBella, or even an apple strudel from the Carmel Bakery on Ocean Avenue...it's all wonderful!
Anton And Michel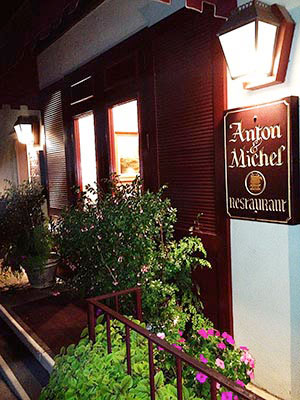 Chef Pe'pe owns the Carmel Bakery and is well known for his delectable and wide variety of pastries...especially English scones. For lunch, his deli sandwichesand salads are equally prepared with care. His business has operated here since 1906 and holds the title of oldest running business in Carmel.
Stop on in and watch the action. Located on Ocean Avenue in Carmel-by-the-Sea between Dolores and Lincoln Avenue.

PortaBella Restaurant
If you should stop by the PortaBella Restaurant on Ocean Avenue in Carmel, be sure to say hello to Luiz...one of the nicest guys in the world. He will be at the door, as he always is...to greet you personally and to be sure your dining experience is just as you expected!
This is a place where you are treated like friends. My meal of duck ravioli was just outstanding. The music, decor and service were excellent as well.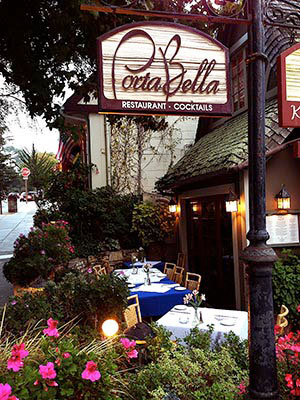 But there are other great restaurants in Pacific Grove, Big Sur, Monterey and especially along famous 17 mile drive that deserve recognition and have been reviewed in pages linked to this page.
There are also many restaurants around the Monterey Peninsula that our team has reviewed that serve really good food where you can have an excellent dining experience without the hefty price tag.
Tommy's Wok
Tommy's is a landmark in Carmel, and you can have a very satisfying late lunch for about $8 plus drink... and probably be satisfied enough that dinner would become an option.
Carmel Restaurants ... Bon Appetit!
Those on vacation and even locals, almost always want the kind of good food they don't have time for at home.
It really doesn't matter whether you choose Monterey, Pacific Grove, Big Sur or Carmel, you will be amazed at the varieties of opportunities for unique and exciting dining options offered to you on the Monterey Peninsula.
So go ahead and make those travel plans, pick an unusual place to stay, maybe read a great book, and then be sure to treat yourself to the kind of food you will not easily forget.
It's such an opportunity here, and almost around every corner carmel restaurants have something new and adventurous to try.
Bon Appetit!
Other Places You Might Enjoy: