Carmel Coast Dining PortaBella Restaurant
You have made an excellent choice!
Carmel Coast dining at PortaBella restaurant is amazing!
Whether you decide to stop in for lunch or dinner, dining at PortaBella is not likely to disappoint.
Make sure you say hello to Luiz at the front door.
He is quite a personality as you will see in the video below. The food and the ambiance are both terriffic! Outside dining is avaiable if the weather is warm, and there is a very pleasant inside dining opportunity as well.
The service here is very friendly and relaxed, and I am convinced that Luiz sincerely wants you have an unforgettable experience.
Be sure to ask about the specials, and if they are offering the duck ravioli don't miss the chance to experience something really wonderful.
Located in Carmel-by-the-Sea on Ocean Avenue between Monte Verde and Lincoln Avenues.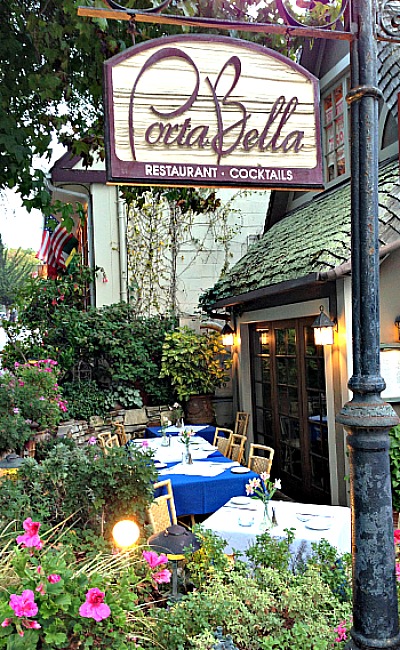 Meet Luiz ... Always Ready To Greet You!
Meet Luiz and and enjoy his stories about the history of this famous restaurant.
During my last visit I met a young couple from Sweeden who often fly into San Francisco airport to begin their vacation. They always drive down to this restaurant and always take a table outside to begin their vacation...every trip.
It is without doubt, a nice way to begin your Carmel experience!
If your here for lunch, it's just a brief stroll down downhill to the fine powdery white sands of Carmel Beach. On the way, stop by the Carmel Bakery on the same side of the street, and pick up something sweet to have at the beach. 
A Rich Carmel History
The architecture of Carmel is a delight for anyone who appreciates the European influence that was dominant here in the early part of this century. PortaBella which means "beautiful door" is a richly romantic setting that captures that charming European flavor that rivals the best anywhere along this stretch of the California Coast  ... and is pefect for a romantic getaway.
The restaurant was an engagement present from Harry to Rose in 1925. This influencial couple were later married and opened the Theater of The Golden Bough which still operates in old Carmel featuring an intimate small theater in the round stage. Performances still are a current draw for those who know of it's place just off Ocean Avenue.
During the Bing Crosby era, this restaurant was the favorite place for celebrities like Bing Crosby, Bob Hope and Phil Harris back when this place was called "Sadie's"
Carmel Coast Dining PortaBella Restaurant Recommendations
The lunch and dinner offerings at portabella are sure to please the palate.
For lunch, you might try the recommended grapefruit, spinach and apple with pecans salad to begin your meal, followed with a wide variety of choices from their portabella burger to the duck ravioli that I always have when I dine here.
For dinner, the menu is elevated for a unique experience. Consider the Coq au Vin chicken breast with pinot noir sauce and applewood bacon.
If the conversation becomes more romantic in nature, you might extend your evening with a shared warm apple tart or Creme Brulee before you are off to the Golden Bough Theater.
If there is a wedding planned soon, Portabella has 5 private rooms that can accomodate up to 75 guests. The Brick Room is especially popular. 
Carmel is a dog friendly hamlet, and Portabella offers their Garden Room for those who bring their furry friends.
---
PortaBella Restaurant
Carmel California
Ocean Avenue Between Lincoln ansd Monte Verde
831.624.4395
Other Places You Might Enjoy: