Enjoy Monterey Whale Watching on California's Carmel Coast

It is truly amazing that in just a few years, Monterey whale watching tours seem to have become a priority on everyone's to do list ... almost an obsession for those who live here or visit the Monterey Bay.
Catching a glimpse of the worlds largest creatures that can appear only a hundred yards away from the deck of your tour boat, can be exhilarating and mind numbing at the same time.
Some of the whales who swim here gliding through the waters, can be bigger than the boats that navigate the waters of the bay. Some of the largest Blue Whales can be seventy five feet long with tail fins longer than a Buick, and with enough power to move them thousands of miles at about twenty knots, yet appear playful, and quick to respond to those who come to observe them.
Kayakers on the bay, report that whales seem to act with almost a "social" purpose and will sometimes dive just beneath their tiny vessels and then appear fifty feet on the other side, sometimes hanging around for awhile before they swim on.
Several varieties of whales enjoy these cool waters during different times of the year cruising the temperate waters just above the Monterey Submarine Canyon as they navigate along the west coast of the United States.
Tail Fins Bigger Than A Buick!

There is no doubt that Monterey Bay does provide a rare opportunity to see Blue Whales, Humpbacks, Fin Whales, Minke Whales and a host of others, who travel through these waters on their way to and from Alaska. It's a daunting trip as Orcas killer whales hide deep in the Submarine Canyon just off Moss Landing while waiting for the right opportunity to make an attack.
You can see these whales up close and personal on large Monterey whale watching charter boats with close to a hundred people, or you can choose the smaller companies that can accommodate about thirty individuals. Trips are anywhere from three hours to more than five hours long with some companies extending their travel day looking for ideal opportunities, so shipmates can see just what they had hoped for.
Tours typically cost from $35 to $60 sometimes depending on which deck you choose as the views are usually better on the top deck. 
It's not just whales that excite and intrigue on these Monterey whale watching tours.
You might see a Mola Mola casually eating jelly fish. These giant creatures are the size of a small car and float on the water like giant saucers and have extremely tough skin. It's only the sea lion that attacks the belly under the water that has any chance of feeding on this giant rotund fish. 
If your lucky, you might see an endangered  Leatherback Turtle. Usually seven to eight feet long, these turtles roam the seas and often travel to the nutrient and jelly fish rich waters of the Monterey Peninsula.
Bottle-nosed dolphins and harbor porpoises are also often commonly seen on these tours. If your really lucky, you might see the largest living creature on the earth, the Blue Whale.
On these Monterey whale watching tours, whales can be seen with their full seventy foot long shapes riding high on the water and often spouting twenty feet in the air. That's longer than most of the boats that are searching for them!
When your not seeing whales, there are always over one hundred species of sea birds, some traveling on ocean currents all the way from New Zealand to the Monterey Bay.
What Kind Of Whales Do You Want To See Martha?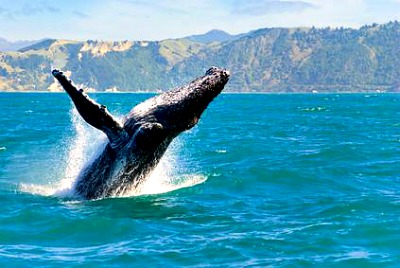 Whales Can Have Fun Too!
You can see migrating whales in any season of the year. Typically this is when whales can be observed on the Monterey Bay:
Spring season sees the Gray whales with their calves and a few Humpbacks. Orcas killer whales are frequent and are the look out for sea lions and grey calves.It's a bit windy this time of the year but the sun is usually out.
Summer brings an abundance of krill and that brings the big whales. Baleen whales are huge and feed on the abundance of plankton. Humpbacks, Blues and Fin whales are also easily found during the summer months. Leatherback giant turtles make these waters home and feed on the jellies in the summer as well. You can expect fog at times during the summer, but sunny days are not unusual.
Fall brings less big waves, lots of sun and a gentler boat ride. Humpbacks are fewer in number as are the Orcas whales.
Winter is the time many Grey whales are seen. Staring in February, activity increases and sometime in March the migration begins back north to their home territory. 
Charters From Monterey And Moss Landing
Your Monterey whale watching adventure begins with a decision about location.
There are plenty of well established whale and fishing charter companies that operate from Monterey and provide thrilling opportunities for all those aboard. You can check the captain's log on business websites and see what kind of whales have been spotted, and also see unedited reviews of those who decided to go on a whale watching expedition. 
Smaller charters leave from Moss Landing Sanctuary and provide similar services.You might be asking why one would want to travel the extra hour to Moss Landing if the services are similar.
Of course only you can decide, but Moss Landing is almost right on top of the submarine canyon that begins just off the shores of Moss Landing. That means you will probably see what you came to see right away since you are already in deep water. These companies usually start their tours an hour later than in Monterey so the one hour travel time is offset.
During the summer months evening tours that leave at about 5:30 PM are available and often very popular.
The Monterey Submarine Canyon spreads out over fifty miles and is twelve thousand feet deep making it the third largest in the world. Because of the cold water, there is an abundance of krill, squid and plankton blooms which are the preferred diet for most of the whale species that travel here.
This is not the place to forget your life jacket!
Charter Whale Tours Based In Moss Landing
Ride The Waves With The Sea Goddess!
Plan your whale watching adventure and begin from Moss Landing.
Imagine being up close and personal with some of the largest, most graceful and rare mammals in the world as they migrate and surface from the deep sea through the abundant feeding grounds of Monterey Bay – the Whale Watching Capital of the World.
Read more below to see what Captain Shake has to say about his up close and personal tours on the Sea Goddess ...
"With over 25 years experience on Monterey Bay and a fully narrated cruise with our on board Marine Biologist, you will learn about these magnificent dinosaurs of our time on the most pristine and spacious vessel in the harbor, the Sea Goddess, Coast Guard certified for up to 93 passengers."
"Our passengers get excited about seeing whales up close and personal interacting and rubbing their barnacles off against the boat, which they do voluntarily on occasion, watching the largest mammal on earth - the Blue Whale, seeing predation events whether it is orcas on the hunt for its prey, or humpbacks lunge feeding at the surface."
Departing from Moss Landing, the Sea Goddess is situated in the center of Monterey Bay between Santa Cruz and Monterey at the mouth of the Monterey Bay Submarine Canyon where the whales play, live, and feed on the abundant anchovies, squid and sardines in this rich nutrient sea canyon - This means more time watching the whales and less time chasing them down!
The crew at Sea Goddess even offers a discount for those who follow this website! Just make your reservation at www.zerve.com and use the discount code "RCCS" when you make a reservation. Search for Monterey Bay, then Moss Landing and finally Sails and Cruises. Fares are about $45 per adult before the ZERVE discount.
Sea Goddess Whale Watching is so confident that your trip will an exciting adventure that they promise a whale sighting ... or your next trip is FREE.
7881 Sandholt Road, Moss Landing  Harbor 831.920.1499
Sea Goddess Sparkling New Interior
Sanctuary Whale Watching Cruises offers longer tours and smaller groups leaving within a few minutes of the whale migration highway. Tours leave daily from 10AM and last four to five hours insuring you have a great chance to see the activity your looking for. The steep slopes of the submarine canyon make this a perfect place for feeding.
The vessel that Sanctuary Whale Watching uses are smaller and can accommodate no more than twenty five or thirty passengers. You benefit from the more personable attention and lack of crowded decks which allows more opportunity for pictures and moving about.
Sanctuary tours appears to be the only tour operator that rents electronic wrist bands that are reported to be ninety percent plus effective in case you think you might get sea sick. If your really concerned and Dramamine doesn't usually work for you, ask your doctor for a scopolamine patch which should do the trick.
These tours are fabulous so don't let the worry of seasickness detour you from one of the most thrilling adventures anywhere on the Monterey coast.
Tours are $50 for adults.
7881 Sandholdt Road A Dock 831.917.1042 Moss Landing Harbor
Blue Ocean Monterey Whale Watching Tours has one sixty foot boat named High Spirits and can hold about fifty passengers. Their boat has an upper deck unusual for smaller boats and allows you to get great photos. Tours are $50 for adults.
Blue Ocean tours are also guaranteed!. They promise that you will see whales or you will receive a voucher for a no cost tour again. Ninety percent of the time they are able to get you to the right spot where you can see whales! A naturalist is also always on board to help you better enjoy your experience.
Both Blue Ocean Monterey Whale Watching and Sanctuary Monterey Whale watching are the first stops if you are traveling from San Francisco and the bay area of California. These Monterey Whale watching tour operators are among the best and within minutes of the activity you came to see just above the Monterey Submarine Canyon.
7881 Sandholdt Road  831.600.5103 Moss Landing Harbor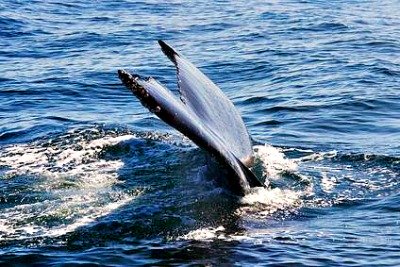 Fifty Feet Of Whale Just Below The Surface
Many Monterey Whale Watching Tours ... How Do I Decide?
This is of course a personal choice, but first a decision needs to be made about where your trip will originate.
If you like the idea of beginning your journey right at the beginning of the Monterey Submarine Canyon and are traveling from the San Francisco Bay direction, or don't mind driving from Monterey to Moss Landing, and you like the idea of a longer tour, then go with the smaller tours at Sanctuary Whale Watching. 
If you are close to Fisherman's Wharf, like the idea of an earlier start, and want the comfort of a large vessel with a heated cabin and an upstairs deck, and you don't mind larger groups, choose the Princess Whale Watch tours.
If you want a seasoned naturalist who has special expertise on the biology of whales, choose the Monterey Whale Watch Center so Nancy can answer all of your Orca Killer Whale questions.
If you like the idea of joining up with the oldest and most seasoned whale watching company consider Chris's Monterey Whale Watching Company tours.
Monterey Based Charter Whale Tours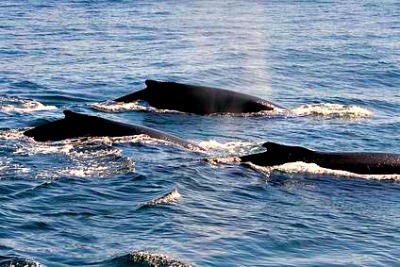 Princess Monterey Whale Watching provides tours of two to three hours duration that leave daily. If you want a big boat, then this may well be your company of choice.
Princess has two touring vessels of about one hundred feet in length with two decks, heated cabins, and a snack bar. The Princess Monterey and the Greatland make up their fleet, and are the largest ships that cruise the Monterey Bay looking for whales, dolphins and sea lions.
Princess has a marine biologist or naturalist on board for all of their cruises who provides ongoing information about the diverse seal life seen on the trip.
96 Old Fishermans Wharf 888 223.9153
Monterey Whale Watching Center is on the old Fisherman's Wharf as well, and offers tours for $40.
These trips leave the dock at 9 AM and again for summer evening at 5:30 with a slightly discounted rate. The tours are about three to five hours in length depending on the season. Nancy Black is the owner and a seasoned naturalist who is on most of the whale watching trips. Her ten year history on the Monterey Bay and her recognition as an expert on killer whales, make her a well informed source for your questions while on tour.
Tours on the Sea Wolf 11  hold up to sixty passengers on her seventy foot vessel. Nancy also leads eight hour bird watching tours for those curious about the diverse bird life here. Located at the end of the pier, watch for the large red sign Monterey Bay Whale Watch Center
Old Fisherman's Wharf 831.375.4658
Chris's Monterey Whale Watching Company is another located in Monterey at Fisherman's Wharf.
This is the oldest whale watch company on Fisherman's Wharf and Chris and his fellow captains are among the most experienced on the bay. His fleet is made up of three ships, the sixty eight foot Star of Monterey, the fifty foot Checkmate and the fifty one foot Caroline. Cruises  leave at 10AM and again at 1:30PM. 
At the end of Old Fisherman's Wharf 831.375.5951
Randy's Monterey Whale Watching is another to be found on the Old Fisherman's Wharf.
Randy's tours operate the Chubasco a sixty one foot vessel, and the fifty three foot Sur Randy. There are also fishing expedition opportunities from Randy's and even a sailing tour on the thirty two foot Carrera, one of the newest sailboats on their Monterey Bay.
Randy's Monterey Whale watching tours tours are $40 per adult.
66 Old Fisherman's Wharf 831.251.7440
Pods Of Orca Whales Within 500 Feet Of The Boat!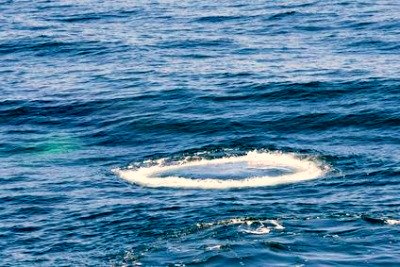 Blow Ring From A Humpback During A Monterey Whale Watching Tour!
Everyone Seems To Wants To Know About This
It would also be wise to drink plenty of water before the trip, Take Dramamine the evening before, and again two hours before your trip if you are worried about sea sickness. Avoid alcoholic beverages, and eat a light meal of oatmeal, bagels or thick crusted bread since food seems to help you avoid getting sick. It would also be wise to drink plenty of water before the trip,
Stay in th fresh air and near the center of the boat and avoid any diesel fumes. Some companies use bio diesel which is less offensive to an upset stomach.
Ginger can help too, so take some a few hours before you leave.
Prepare For Your Trip
There are a few things that will make your Monterey Whale watching trip more enjoyable. The weather can change quickly so dress in layers, bring a light jacket, and shoes that will handle some water if the seas are rough ... 
Home > Things To Do In Monterey California >  Monterey Whale Watching