Monterey County Youth Museum


If you have been to the Monterey County Youth Museum before, you know that it's a nice diversion from what can sometimes be long lines and high cost of a visit to the Monterey Bay Aquarium …especially if you have several children.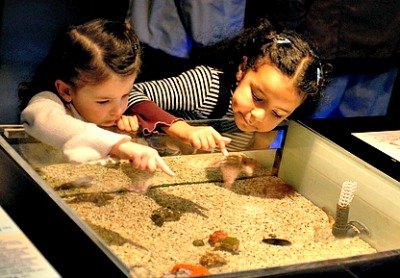 "Where Children Learn To Play And Grown-Ups
Learn To Play"


Located at a new address at 425 Washington Street near Fisherman's Wharf and only about two blocks off of Del Monte Avenue, this museum is very close to historic downtown.
The new museum has a variety of attention getting sections for children and is designed to appeal to children under about four years of age.
Children can rotate as they please at these sections within the building: 
My Day at The Beach
My Theater
My Golf
My Creation Station
My Healthy Farm
My Town Hall
My Hospital 
My Magic Tree
My Suspension Bridge
My Rock Climbing
Eight Thousand Square Feet of Play Space


Your young toddlers will have plenty of space within eight thousand square feet of play space. Two hundred and fifty thousand guests have already discovered the attraction of this new facility and the surrounding children's parks over the last ten years.

There are plenty of bathrooms and even a small snack bar with hot dogs and ice cream if anyone gets hungry.Travelers to the Monterey Coast will find this to be a nice diversion and a great physical outlet if they have been in a car seat for any length of time.
Dennis The Menace Park ... For Kids and Adults!


To make this adventure even more appealing, the Dennis The Menace Outdoor Park and the Monterey Sports Center are within walking distance and an easy place for them to run and play after their trip to the museum.

You will find a huge lake, all kinds of things to climb on, a real full size antique steam train, wooden bridges over a huge lake and even a climbing wall.
This may be the perfect place after a 2 or 3 hour car ride when everyone really needs a break.
Just look at all these attractions for both Mom, Dad and kids:
McDonalds restaurant right next door
Full size steam train everyone can climb on
Giant Lake with rental boats 
Climbing wall
Slides and more Slides
Footbridge over the sand and the lake
Plenty of running space
Monterey County Youth Museum ... Open Every Day Except Monday


The Monterey County Youth Museum is open every day except Monday.
Hours of Operation:
Tuesday thru Saturday  10AM to 5PM
Sunday 12AM to 5PM
Address and Contact Information:
425 Washington Street (one way)
Monterey CA 93940
831.649.6444
Admission:
Admission to the Museum is $8 for adults and children over two years with children under 2 years free.