Best Pebble Beach Hotels for a Couple's Getaway


Pebble Beach Hotels and Resorts have long been prized as among the very best and most beautiful places to stay anywhere in the world.
The challenge is to narrow the possibilities and decide on one of the three very unique accommodations.
Which is the right choice for you?
The "Lodge" at Pebble Beach is an iconic hotel built in 1919 and is the place to stay if golf on the Pebble Beach Golf Course is on your agenda. This is also a favorite during the holidays when this historic building is adorned with more holiday lights than you can imagine. For a romantic escape, this is one of my top recommendations. After all is was voted as "One of the best places to kiss in California"
Casa Palmero is a very luxurious enclave of Mediterranean style accommodations that seem to beckon you in with the promise of romance. The courtyards and the European architectural style is captivating and opulent. You won't have to worry about a thing while you are here and that makes it my second choice for a romantic getaway
The Inn At Spanish Bay is very different from the other choices at Pebble Beach, buy very appealing as well. The quality, impeccable service, and incredible ocean views are still the same and there are excellent dining venues. This resort has been designed around a more modern and easy going coastal style of architecture. The thing I am most remember about this venue, is the huge fireplace deck that opens onto the golf course and ocean views. I spent some time here, and there is nothing better near the end of a day in my opinion, than relaxing with a beverage, a warm blanket courtesy of the staff, and a roaring fire for just the two of you. Watching the setting sun, gobbling down inspired appetizers and enjoying good conversation until the stars come out above the water ... is my idea of a great evening. Depending on what is important to you, this could easily be a first choice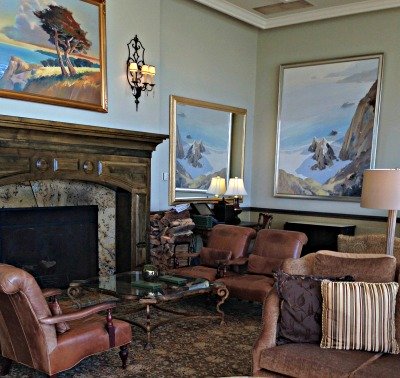 A Welcoming Fire Inside The Pebble Beach Lodge
Even if you can only disapear for awhile, maybe a couple of nights, any of these Pebble Beach Hotels will cause you to wonder about your return trip. The investment of time together here is priceless. Yes you could stay away from the beach and closer to motel row and safe a bunch of dollars, but your experience here would not be the same. Memories that last  are part of your adventure here.
I learned the hard way ... if you have an anniversary, a special birthday or if your looking for a honeymoon getaway, Pebble Beach is the place. A few years from now, you will still remember this adventure.
Your View Of The World Famous 18th Green From An Oceanfront Room
A Well Known Landmark On The Monterey Peninsula ... Stay At The "Lodge"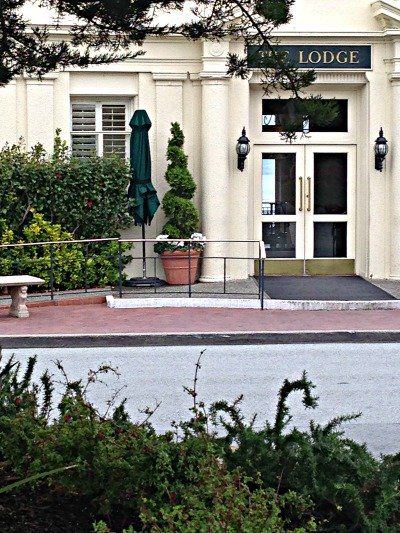 Just Step Inside For A Wonderful Surprise!
The Pebble Beach Lodge is a historic grand lodge with rooms looking over the 18th green of the golf course, and offering amenities one could only imagine.
The long history of Pebble Beach Hotels includes visits by many of the world's leaders and influential dignitaries from around the world.
Winston Churchill, Teddy Roosevelt, Salvador Dali, Charles Lindberg, and Clark Gable all stayed at the Pebble Beach Lodge and just as you, they came for the incomprehensible beauty and unadulterated luscious luxury.
Famous actors including the local Clint Eastwood and golf legends like Arnold Palmer and Tiger Woods, found themselves here for the view, the food, and for the golf. 
Hollywood helped Pebble Beach to become a well known destination. In 1918 the movie National Velvet with Elizabeth Taylor was filmed here. Jerry Lewis and Dean Martin filmed the "Caddie" right outside on the 18th green, and Karl Malden and Marlon Brando stared in the movie One-Eyed Jack.
Later, Walt Disney filmed Escape From Witch Mountain, just up the way from the beach.
The Pebble Beach Lodge and nearby Del Monte Forest occupies 5,300 acres of forest, sand dunes and sea, and is located between the quaint hamlet of Carmel-By-The Sea and the city of Monterey.
The "Lodge" is also is part of the famous 17 mile Drive, so make sure you take some time to enjoy all that this area has to offer.
The resort is known for it's impeccable quality of service and dedication to your comfort and well being. Sixteen hundred employees are right around the corner to make sure your vacation needs are satisfied.
If your pocketbook is full, and your looking for a memorable place to celebrate your anniversary or that bonus that you were not expecting, there are many places where you can stay and be pampered near the Pebble Beach Lodge.
The 22,000 square foot two story Spa at Pebble Beach is just a beginning. Spend a day here and leave completely relaxed and rejuvenated.
The Inn At Spanish Bay... Rated Number One At The Pebble Beach Hotels And Resort


The Inn at Spanish Bay is a little more relaxed, but you still can enjoy a room with fireplace, private balconies and a winding boardwalk that takes you along the Pacific Ocean where you might just discover as many have, your newest favorite beach about 300 yards away from your room.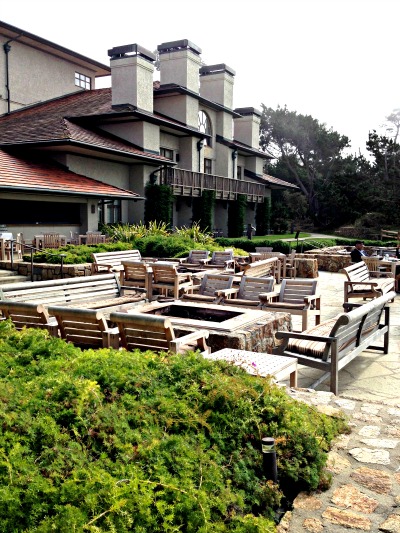 Choose A Room Facing The Ocean and Outdoor Firepits ... Perfect For Star Gazing At Night
If you don't own an oil well or work on Wall Street, you can still enjoy most of what the one percent enjoy. That is great views, the smell of the ocean and wonderful food for about ten percent of the cost for a nights stay at Pebble Beach.
But if you can, a stay here would be something you talk about twenty years from now... 
| | |
| --- | --- |
| A Warm Reception At Spanish Bay | Shopping At Spanish Bay |
Luxurious Casa Palmero


Casa Palmero is a quarter mile from Pebble Beach Lodge, and sits right on the first fairway of Pebble Beach Golf Course.
If you choose this Pebble Beach Hotel and Resort location, you will have your own private coordinator who brings you flowers, breakfast prepared to your specifications and who sees to your every wish. The style is Mediterranean, and the experience is for most of us, a once in a lifetime event... that will be etched in your mind forever.
Skip your house payment this month and see how the wealthy live their lives.
It may seem like a lot, but who can put a value or a price, on a romantic getaway experience at Palmero?
Romantic Carmel Coast Home > Pebble Beach Hotels And Resorts