Pebble Beach Weddings


Pebble Beach Weddings can be stunningly romantic and truly spectacular events. 
All of the venus at Pebble Beach offer unique opportunities to include the beauty of California's Pacific Coast and world class accommodations, as a part of your never to be forgotten ceremony.
Each venue holds the potential to welcome all those who gather with you. Wedding parties can be easily accommodated in any of these four venues:
The Lodge At Pebble Beach
The Inn at Spanish Bay
Casa Palmero
The Pebble Beach Tennis Club On Stillwater Cove
It's not difficult to see why so many choose this romantic location for their ceremony. Everything about Pebble Beach contributes to the attitude of romance whether it's the ocean breeze, the sound of lapping waves, or the elegant traditions of each of the four venues.
The setting on the 18th green at the Pebble Beach Lodge, with waves crashing on the rocks of Stillwater Cove, and rose petals everywhere just tends to make a new bride smile with joy and anticipation!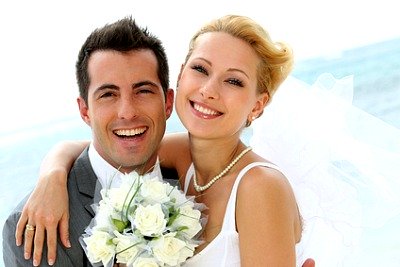 Just Married At The Pebble Beach Lodge!
Pebble Beach Wedding Venues


A Pebble Beach Wedding will never be forgotten ... not by you, or your spouse or by the guests that join you on the day of your wedding and ceremonies here. This is about as elegant and as classy as it gets!
Wedding services at Pebble Beach can be held at the historic Pebble Beach Lodge built in 1917, at the Inn at Spanish Bay overlooking the ocean, at the Beach and Tennis Club sitting on the very edge of the Pacific Ocean right above the surf, and also on the opulant grounds of the mediterranean themed Casa Palmero.
Any one of these venues have stunning backdrops of the Pacific Ocean and elegant accomodations from 30 to 300 guests.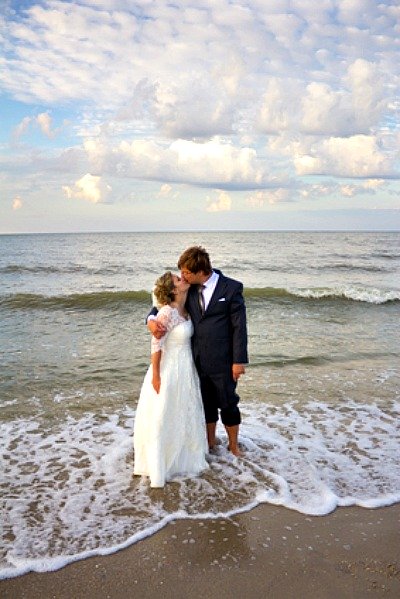 Tiny Unknown Beach At Stillwater Cove In Pebble Beach
Pebble Beach Wedding Services


The wedding planning staff have become experts in making sure your wedding day is exactly as you planned. 
Everything you need and every specialized service is provided here. You just need to bring your marriage license.
Wedding services include:
A culinaty team to help plan the food and beverages to be served
A floral design team
Audio visual experts to make the memories last
Photographers
Videographers
Ministers
Stationers
Limousines
Wedding coordinators
Spa Services


The prospective bride and groom may request the services of an Esthetician and hair and makeup specialists for your Pebble Beach Wedding and are all available at the 22,000 square foot Pebble Beach Spa and Salon. The professionals here are highly skilled and devoted so that every aspect of your wedding day preperation is seemless. Bring your wedding party for careful attention to hair and makeup and total relaxation.
Honeymoon At Pebble Beach


You could travel to the most exotic places in the world for your honeymoon, spending most of your getaway time in airports, or you vacation right here alongside the Pacific Ocean within 5,000 acres of stunning beauty.
Your respite from the rest of the world begins with very high caliber Pebble Beach accommodations and inspired dining along some of the most gorgeous scenery anywhere in the world.
Wake up to the sights and sounds of the ocean, and imerse yourselves in indulgent days or weeks right here, and let the rest of the wearied world carry on while you focus on your romantic escape. 
Take advantage of one of the world's most luxurious centers for a spa retreat right her at Pebble Beach. Spend a full day here in the 22,000 square foot Pebble Beach Spa that has everything from fireside couples massage rooms, to an Ionization suite and a whisper quiet Conservatory Room.
If you decide to venture out and explore, consider a day trip to Hearst Castle and stop along the way in the extremely popular Big Sur Coast for some hiking adventuires like you have never seen before.
Let Stephen Copeland guide you to private land where you will experience hiking adventures that most of the rest of those who visit Big Sur never get a chance to see. Shades of emerald green and ocean blue vistas are everywhere.
Or rent a kayak for an afternoon and paddle to the point at Pebble Beach to get a water perspective and some great pictures of your wedding the day before at Stillwater Cove or along the 18th green at the "Lodge."
Romance is in the air at Pebble Beach ... it's palpable, just look for the couples holding hands on the beaches here. Some of them are likely returning here to recollect their wedding day of a dozen or more years ago. 
Maybe you can see yourselves here someday too!