Santa Cruz Boardwalk


The Santa Cruz Boardwalk and it's wide impressive beach remains one of the greatest places along the California Coast to let go and just have some fun!
Forget the concern about calories for a day, put on some bright colored beach wear and let all your concerns and all your worries just drift away.
Making plans to escape to the beach is always a great idea, but when you combine sand with roller coasters, music on the beach, cotton candy and corn dogs ...you get a hard to beat winning combination.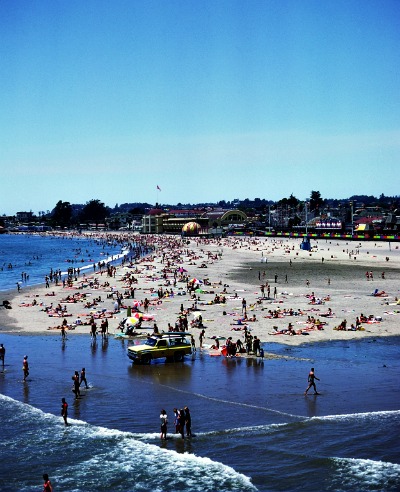 A visit to Santa Cruz is a great day trip from the Monterey Peninsula, and if combined with a tour of the Mysterey Spot in the hills above Santa Cruz where the trees grow sideways, this can be a fun and lasting adventure.
There is something satisfying about a day at the beach and boardwalk ... corn, cotton candy, and the sounds of everyone having fun.
I was there recently and remember riding a legendary and monster roller coaster even after learning it was built in the early 1900's out of locally scavenged redwood.
The "Big Dipper" as it is appropriately named was built in 1924 and was featured in several movies including "Lost Boys." This really really old structure is noisy and scary beyond belief, but is world famous and enjoys a great saftey record and has thrilled millions of visitors over the years.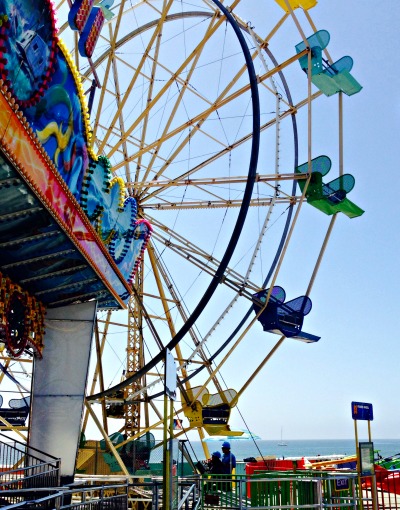 If you don't get sick on these things, this is a heck of a lot of fun...just plan on eating that corn dog after the ride.
Santa Cruz Boardwalk ... Its Bigger and Better!


The Santa Cruz Boardwalk has redefined itself recently by adding much more to the adventure than just walking and playing on this very long boardwalk. Enjoy the rides until your crazy dizzy, then set out for a long walk on the beach, or dine at one of the fish restaurants on the pier...or maybe play a round of laser tag back on the boardwalk.
In the evening, there are free beach movies where you can spread out  a blanket, have  picnic lunch and watch classics like "Footlose" or "Big" with Tom Hanks. It's a great sight to watch these movies with the "Big Dipper" and the twinkling lights in the background.
If your here on a a Fiday or Saturday evening  during the summer, spread out a blanket or two, get some popcorn or some nachos form one of the boardwalk vendors and claim some beach real estate, and then as the sun sets, enjoy listening to the likes of "Papa Doo Run" or Gregg Rolie from "Santana." Concerts begin at 6:30 PM with a repeated performance at 8:30 PM.
My suggestion is to claim your spot with lots of blankets and "stuff" play on the boardwalk and then return just in time for the later show when the stars overhead  make the adventure even more fun.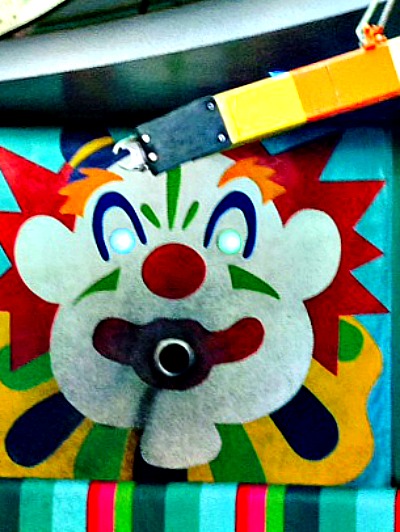 Right in the center of this very long Santa Cruz Boardwalk, there is something amazing that you can't miss and it's been here since the boardwalk opened. It's a vintage 1911 carousel with hand carved and painted wooden horses, a brass ring toss to throw into a hole in a painted clowns mouth in the wall, and believe me, it's not as easy as it looks.
I probably rode that carousel round and round for over an hour to try and beat my record of three successful toss at the clown... but my personal record still stands.
Send me an email if you can beat my record. One hour and three successful tosses.
Even if you choose not to hop aboard a horse and ride this great carousel, just listening the outstanding music from the extremely old Wurlitzer 165 band organ is entertainment enough.
It's incredible, and it's like you are being pushed back in time. This wurlitizer was once at Playland at the Beach in San Francisco which I visited on a regular basis. When that beach boardwalk closed, the organ was moved to Santa Cruz and...what a wonder it is!
This antique organ designed by Charles Looft, it is still is a remankable thing to see and hear, and probably sounds just as good as it did in the early 1900's.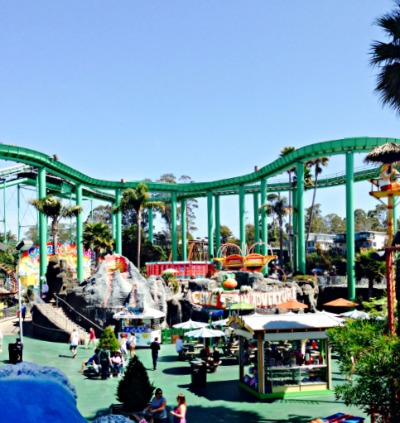 At the west end of the Santa Cruz Boardwalk, there is a treasure. if you ever played games for hours in an arcade, there is something here not to miss.
I still like the hands on game called Whack a Mole just because I can still beat just about anybody that offers to make a challenge! There are over 300 other arcade games to play. Some are antique and some are the latest digital challenges and this place is always an interesting place to be.
Don't Forget To Take A Stroll On The Wharf
The long wharf at the Santa Cruz Boardwalk is well known as a place to dine a little farther out into the ocean. You will see couples hand in hand, bicyclists and a number of favorite restaurants that line the wharf. Try Woodies or the new Fire Fish restaurant for a classic wharf menu selection.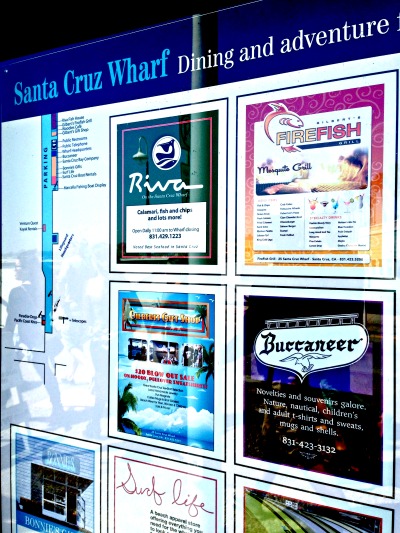 Stay a Night if You Have Time!
If you decide to stay in Santa Cruz for a night before returning to Monterey, consider a night at either the new Hotel Paradox http://www.thehotelparadox.com/?vm=r about a mile from the beach or the Dream Inn right on the beach.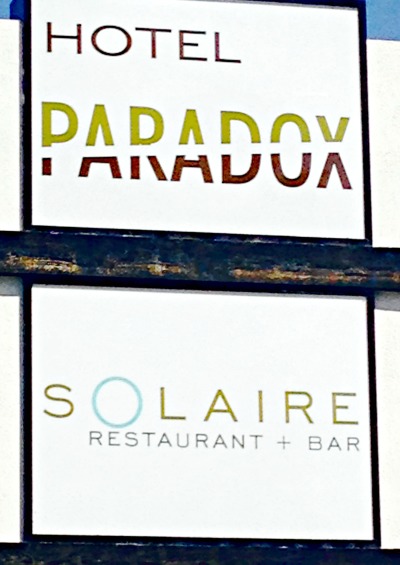 The Hotel Paradox is elegant but still affordable…ask for the summer retreat package for about $185 that includes a $30 meal credit.
If you want to be on the beach and within walking distance to the boardwalk, consider the Sea and Sand Motel right on the beach.
If you still have a bundle of cash left for your trip, you might really like the Chaminade Resort and Spa http://www.chaminade.com/… I have been there and it is pure luxury tucked up in the hills but still close to everything!
After the Boardwalk!
After a day at the Santa Cruz Boardwalk, venture on down to the Santa Cruz Harbor and have a late dinner at the Crows Nest Restaurant: http://www.crowsnest-santacruz.com/.
The bacon wrapped scallops are a culinary experience that will dazzle your tasebuds. I can still taste them and its been too long since I have been there and I really need to go back again! The views of sail boats in the harbor are a nice touch as well.
Tomorrow...it's another adventure on the Monterey Peninsula!

Are you up for some early morning kayaking, or does some extended wine tasting in Carmel sound better?



More Fun Day Trip Ideas from the Monterey Penninsula
---
Home > Things To Do In Monterey California >  Santa Cruz Boardwalk