Best Restaurants on the California Carmel Coast


Fabled best restaurants seem to be everywhere....or so it seems.
The following pages were written because I honestly don't think it's true.
The surprising reality is that the really great restaurants that seems to combine the best of excellent cuisine, ambiance, amazing views and stellar service can be almost impossible to find even with the plethora of highly abbreviated blogs and web pages seemingly pointing you to "just the right place".
It's the combination of many things beginning with excellent food that in my opinion makes a restaurant a "best restaurant". Really good food can indeed be found in just about every nook and cranny from Monterey to Big Sur. But if you are really wanting a romantic, intimate yet unpretentious dining experience, read a little further down on this page about Luiz and his story.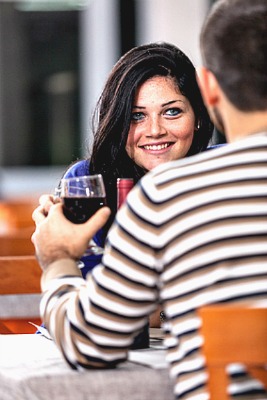 Pick A Location For The Best Restaurants


There are hundreds of restaurants in the Monterey Bay area ... at last count well over 300 unique places to enjoy a perfect meal.
It's much easier to decide if you know your geographical preference:

Would you like to dine close to the accommodations you chose?
Want to enjoy a fabulous meal along the waters edge? Prefer quaint and romantic?
Start with these geographic areas: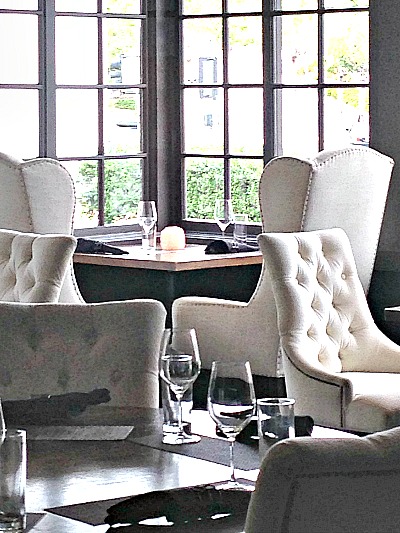 Although everyone has a somewhat different idea of the best restaurant, allow me to tell a story of a place where I have dined and felt a palpable sense that it was among the best of the best.
For this restaurant, the quality of food, the romantic charm, mood, character and the level of service were all perfect and would be an especially good choices for a surprise escape, anniversary or for that very special occasion.
First, let me tell you about Luiz and Portabella!

On a trip to Carmel By The Sea recently, I found myself walking up the hill from Carmel's famous powdery white sand beach when I stumbled onto what appeared to be a 1920's era cottage restaurant right on the popular main street in Carmel.
As I paused at the entry to "Portabello (quaintly nicknamed the "beautiful door"),
I noticed a fellow who turned out to be a very charming host, Luiz. He was positioned just inside the courtyard entrance, near the potted inpatients and wall hugging vines. Needless to say we were taken!
Nostalgic french music was playing softly in the background and Luiz was beaming as he made recommendations to his dining guests offering tantalizing details of the Mediterranean themed menu items offered and even more about the history of this unique restaurant.

I approached Luiz as if he was a long time acquaintance, and quickly chose a table inside the courtyard.
My neighbors at the table to my right had just arrived from San Francisco after a flight from the Netherlands and explained to me that this was their favorite restaurant along California's Coast, and that they drove directly to Carmel from San Francisco without stopping.

| | |
| --- | --- |
| Dametra Rated #1 For A Fun Experience | Surprises are Perfect After A Great Meal! |
I learned that this was my neighbors pattern for years whenever they traveled to the states.
Of all the famous and popular restaurants within the 100 mile trip ... Portabello was their favorite best restaurant. Their's was a romantic holiday and Portabella was the first stop on their week long escape.

I decided on the duck ravioli that was a well known specialty and highly recommended by Luiz.
From the moment I sat down and absorbed the surroundings, my discussion with Luiz continued. I found that this restaurant used to be the favorite of some of Carmel's noted residents and favorite actors including Bing Crosby, Bob Hope and Phil Harris when this place was called Sadie's.
Luiz went on about the "creatures of the night" that made this place famous in the 1950's and all about the history of the quaint village of Carmel.
When my ravioli arrived, it was sensational...succulent and plentiful and served by the most charmimg server dedicated to please.
The entire setting almost seemed magical and has quickly become one of my favorite places to dine. It may not have a perfect view of crashing waves and wait staff dressed in tuxedos, but it does have a friendly charm and a proprietor that caters to his customers. He serves some of the best food around and I know when I return he will know my name and ask me again about his recommendation of the duck ravioli. 
Luiz is an original gentleman and loves his work. Making your meal all that you expect is his true passion and it becomes clear to everyone nearby as soon as you meet him.
Read more about Luiz and this amazing place where you can feel at home and enjoy a memorable  lunch or romantic dinner ... Luiz is there six days a week so don't forget to look for him and ask about the stories that made this place a sizzling hot spot in the "day".
Romantic Carmel Coast Home > Best Restaurants on the California Carmel Coast