Schooners Coastal Kitchen Restaurant
Schooners Coastal Kitchen Restaurant serves an eclectic American fare rich in creative seafood selections, wood fired specialties and excellent cocktails.
Sometimes in restaurants with great views, the food becomes secondary ... not at Schooners!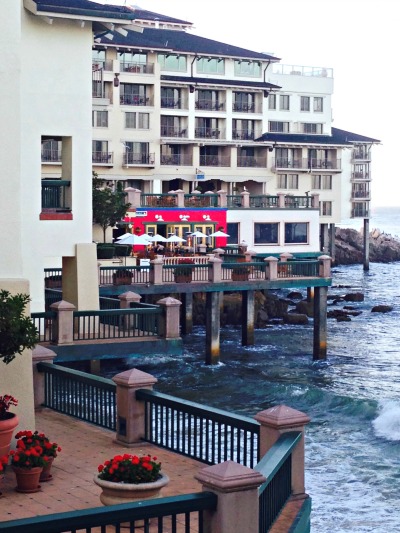 Romantic Dining Just Above The Breaking Surf
The waters of Monterey Bay lap against pilings just below your table twenty feet below this second floor restaurant in the Monterey Plaza Hotel. Warm wood tones, a nautical motiff, elevated tables, and the sight of lapping waves seem to just wash away your concerns and turn your thoughts to each other... just what this escape was all about! 
And that's a good thing, because the focus here is not only on savory dining but on each other and the memories created while you enjoy your much needed escape.
American And Seafood Cuisine 
Chef Muller has successfully brough creativity and simplicity to the sometimes over worked cusine of many upscale restaurants.
Dinner here is a special experience. 
As the sun sets and the day begins to close, you have found yourselves in just the right place for a splendid dining experience.
If your a seafood lover, consider the Artic Char or the Grilled Seabass or maybe even the Cioppino. The Angry Prawns are well known here and can be also ordered as an appetizer if you wish.
Filet Mignon wrapped in bacon or New York Steak and Lamb are also offered if your preferences lean to the meaty side of the menu.
Happy Hour At Schooners Coastal Kitchen Restaurant
At Schooners Coastal Kitchen Restaurant, the "Social Hour" begins Monday through Friday at 4:00PM and extends to 6:00PM at the upstairs restaurant and bar.
A Hint of the Happy Hour Offerings:
Wood Fired Pizza $8
Clam Chowder $6
Spicy Chicken Wings $5
Outside dining at deck level is a wonderful alternative for lunch if the weather is promising. Heaters and umbrellas are tableside if you need a little extra protection from the weather.
Amazing Breakfasts Too!
Be sure to wake your significant other early to start you new day with breakfast at Schooners. The Crab Cake Benedict, and Carmel Valley Omletts are better than anywhere else in Monterey.
Watch the sea otters cavort offshore, and listen to the seagulls as you plan your day in Monterey. There's no need to rush ... your finally beginning to really relax!
It dosen't get much better than this!
Valet Parking
Parking on Cannery Row can be difficult to find and costly as well. Schooners Coastal Kitchen offers two hour validated valet parking in front of their entrance to the Monterey Plaza Hotel...so easy.
Just pull up under the hotel canopy and your steps away from a fantastic dining experience.