Sierra Mar Big Sur


Dining at Sierra Mar Big Sur is an experience that is hard to match anywhere else in the world. The views are awe-inspiring, the cuisine is engaging, and the romantic ambiance is unparalleled.
Sierra Mar is part of the 100 acre Post Ranch Inn Resort built under the tutelage of Mickey Muennig as part of an inspiring and environmentally friendly construction project started in 1992.
These architectually unique acccomodations including the restaurant, have not been duplicated anywhere else in the world and are offered for the well heeled beginning at about $1300 per night.
The views of the Pacific Ocean and Big Sur coastline from the all glass floor to ceiling windows of Sierra Mar are unobstructed, and offer a 180 degree panoramic view of the majesty of Big Sur.
Accolades from worldwide travel magazine and restaurant reviewers consistently rank this a must have experience for anyone traveling to Big Sur for a special occasion.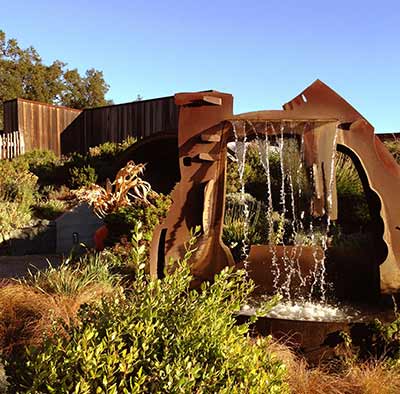 Waterfall Sculpture Just Outside Sierra Mar Big Sur Restaurant
Sierra Mar Big Sur ...Cliffside
Dining On A Cloud ... If You Lucky!


It's difficult to separate the outstanding panoramic views and spectaular sunsets in Big Sur from the cuisine. Together they harmonize and leave the diner fully satisfied for the experience.
Watching the setting sun and the blanket of stars that later cover the heavens and eagerly show themselves in this unpolluted night sky, make this about the most romantic dining experience you can imagine.
It's no wonder that dining here in the evening can be a 4 hour experience.
Anniversaries, birthdates and first dates are usually perfect here.
Dining here in the fall or winter can be an exceptional experience because of the crisp clean air and views where fog is unusual. If you are here in the summer and your fortunate, you might also arrive and experience what inversion layers can do to the California Coast.
Clouds or fog can hang just below the 1200 foot elevation of Sierra Mar Big Sur, and the feeling is much like sitting on a cloud that stretches as far as you can see ... almost ethereal.
I missed that experience when I visited, but had a very nice lunch while gawking at the never ending vistas and enjoying the equally attentive service.
Three, Four and Nine Courses Of Carefully Created California Coastal Cuisine ... Does It Get Any Better?


Four course dining and the new Nine course "Taste of Big Sur" dinner offerings with world class wine pairings are carefully orchestrated by Chef John Cox. ... enough to get the attention of Wine Spector and the coveted "Grand Award" recognition.
Chef Cox returned to Sierra Mar Big Sur in 2012 after a few years at Casanovas and La Bicyclette in Carmel, to the place where he began his career in 2001.
Expect dinner to be $100 per person or more, depending on your desire for cocktails or wine during your meal. Reservations begin at 5:30PM.
Service is generally good, but on occassion an inattentive or poorly trained wait staff will put a chink in the otherwise perfect dining experience at Sierra Mar. 
Lunch is offered to the public from 12:15PM until 3PM and has changed recently from the menu offered here for years. Lunch is now a three course pre-fixe offering for $50 and additional wine parings are $27. The pre-fixe menu is a bit limited in choice but most seem satisfied with the apparent better value. You can opt to purchase ala-carte if you like!
Look For The Big Red Barn To Get To This Magical Place!


Sierra Mar is hidden away uphill from scenic Highway 1, and the public and is only allowed on the grounds by reservation. There is a guard station and a gate just across the highway from the infamous red barn that is easily seen after you pass the village in Big Sur and the Pfeiffer Big Sur State Park. 
Just look for the paved winding road uphill across the highway from the bright red barn fronting the highway.
Make sure to have reservations, and don't arrive early or you will be turned away. The privacy of guests spending thousands of dollars to stay here is the top priority of the management of the Post Ranch Inn. 
A friend of mine visited here and rolled up in a $100,000 Mercedes Benz, and the guard refused to let him in. He had to return because he was thirty minutes early. 
It is a little pretentious, but if you focus on your palate and the unending views, you will be a happy camper...so to speak!
Sierra Mar Big Sur
See Google Map To Sierra Mar Here
47900 Highway 1
Big Sur CA
831.667.2800
Use This Link To Return To The Top Of This Page All About Dining At Sierra Mar And The Post Ranch Inn