Restaurant 1833
Restaurant 1833 is a relative newcomer to the historic district of Monterey and follows many other restaurants who occupied this 19th Century Stokes Adobe.
Built in 1833, this architectual delight has had many stories to tell since it's construction.
Outside giant redwoods and California Oaks dot the landscape. Some even say that the mature California Oak tree on the property was planted by Father Juipero Serra while he was on his quest to build a chain of Missions in California.
Ask your server about the many many lives of this structure and about the bagpiper who occassionally strolls thru the five dinning rooms with a a well know tune.
This restaurant has received a lot of buzz with the locals and world travelers alike. You  almost certainly will feel the comfortable ambiance of this place as soon as you leave the courtyard and enter the building.
Vintage furniture, warm wood tones and period furniture create an unmistakeable ambiance that sets the mood and helps to define the rest of your romantic evening.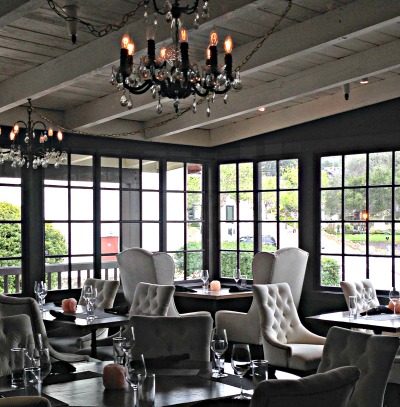 Govenor's Room Second Floor
As you try to decide among the many innovative dishes you can feel the history of this building and wonder what it must have been like here a hundred and fifty plus years ago.
Five Distinct Dining Rooms


| | |
| --- | --- |
| The Gallatin Room | Downstairs Library And Fireplace For Coctails And "Small Bites" |
For some, this is as good as it gets in Monterey. Others say  the food is excellent but a bit pricey, noisy at the bar and on some evenings the wait is longer than ideal.
But it's so romantic!
This is a popular place for "Date night' and for anniversaries and birthdays. There are two bars and the bartenders are always rated with enthusiastic applaud.
Try the well crafted Black Raspberry cocktail,t he Shriner, or the Waltz. The drink list is extensive and you'll find drinks here not available anywhere else. There is also a pastry chef on the spot for any special requests you might have ... especially if ot's a romantic birthday celebration.
There are several different rooms where you can dine and it feels like, well ... a house.
On the first floor you can enjoy fine dining in the Sun Room, Gallatin's Room and the Library. On the second floor, you'll find tthe Govenor's Room, Hattie's Room and the Founders Balcony Room.
If you get a chance, request "Hatties Room" which sits on the second floor facing the front of the building for it's romantic flavor and distance away from the waiters bustling aisles.
Eighteen Thirty Three's

"Apothecary Bar"

Eighteen Thirty Three's

"Absinthe Bar"
Restaurant 1833 ... It's all About The Food ... Right?


To be sure, the ambiance and the romance of this architectural gem is undeniable and understood, but the food is delicious, often defined as clever and innovative.  As you listen to the subtle arrangements of Frank Sinatra, Louis Armstrong or Ella Fitzgerald, it's sometimes a challenge to decide on your fare for the evening.
My recommendation is to stay away from the Bone Marrow entree which would ruin any romantic mood, and elect for the "1833 Experience."  This provides you with a sensational selection of 5 courses so you can experience the wide range of culinaary offerings available here. Pair these with some recommended wine, good conversation and romantic glances at each other, and you have an evening to remember.
Don't Forget To Try The Artichoke Soup!
An absolute must while you are here, is to wrap yourselves around the Bacon Cheddar Biscuts with Maple Chili butter or the Artichoke Soup. 
When your meal is complete and as a nice touch, the waiter will bring your bill neatly placed inside in a 1800 vintage book... just an example of the attention to detail to be found when you dine here.
| | |
| --- | --- |
| Govenor's Room | Enjoy The Outside Courtyard And Fireplaces As You Wait For Your Table |
Plan Your Romantic Birthday Or Anniversary Visit


If your planning a special visit to Restaurant 1833 and you want this to be a very special evening, I would suggest you plan your visit on a weekday to avoid the crowds that sometimes slow even the most attentive server and cooking staff. Restaurant 1833 is happy to add a candle to any dessert to help you make the evening all that you had expected.
500 Hartnell Street Monterey CA 93940
831. 643.1833