Point Lobos State Reserve Hiking
Point Lobos State Reserve hiking trails are some of the most interesting, and easy hikes anywhere on the Monterey Peninsula. These trails are rich in history, are usually very short, and get you very close to the magnificent cliffs that surround this park. 
Point Lobos State Reserve is about two miles south of Rio Road in Carmel and the often visited Sea Lion Point is less than a mile down a narrow road after you enter the park.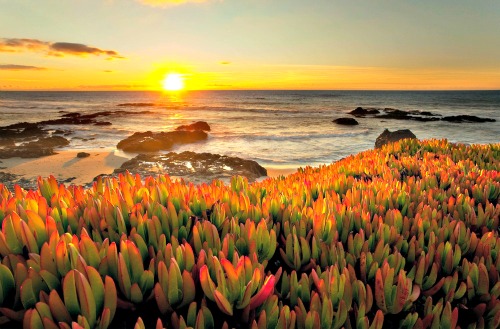 A Hikers Paradise With Fourteen Interconnecting Trails 
It's quite possible for the day hiker to hike the entire perimiter of Point Lobos State Reserve from Whalers Cove to China Cove via connecting trails. Some take you past the whaling coves where whaling was big business in 1885. Others take you thru lichen laced trees an dinto inland trails.
Make sure to check in at the rangers station for a trail map. Ask if docents are on duty and get updtaes on the status of each trail to be sure maintenence is not scheduled for your day here.
The list of trails is long. Most connect and are generally pretty short in length, but big in terms of the scenic beauty.

The Cypress Grove Trail
If you only have time for a short hike while visiting Point Lobos State Reserve, the Cypress Grove Trail at the Sea Lion Cove parking lot is your best choice.
On weekends, docents will provide binoculars and lead you in small groups out to the trail that surrounds the Allan Memorial Grove of cypress trees hundreds of years old.
This trail has a very slight gain in elevation and has several places where you might stop for pictures and take in the stunning scenery.
You can hike this entire loop trail in thirty minutes to an hour depending on whether you hike alone or in the small groups that docents lead. If you have time and are here on a day when the docents are available, I would take advantage of their knowledge and expertise.
In the few days I hiked in the park, I learned a great deal from these skilled residents of Carmel and Big Sur and enjoyed my visit to the park more than if had I hiked alone.
As you take in the sights and the absolute beauty of this place in the park, consider that the cypress trees you see only exist in one other location in the entire world.
Sea Lion Point Trail
The Sea Lion Point Trail originates at The Sea Lion Point parking lot. This is another short Point Lobos State Reserve hiking trail and is a rocky loop that journeys out to the cliffs that lie above Highland Cove.Plan on about twenty to thirty minutes for this trail
At sea lion point, you are likely to get an earful of the chatter of sea lions and harbor seals all looking for attention.Here you will find views of Sea Lion Point and Sea Lion Cove. This is a very short hike...maybe even a stroll but be careful please  as the cliffs are dangerous especially if the wind is blowing.
North Shore Trail
This trail in the Point Lobos State Reserve Hiking top ten list is perfect for those who would like a little longer hike and want to see more of the tiny coves and granite outcroppings that characterize this area of the reserve.
If you are alone or with a small group, this hike of about three miles round trip will probably take you about an hour...maybe longer if you take some of the shorter paths that take you out to the edge of the cliffs.
The short diversions off the main trail to Guillemot island and to the "Old Veteran" cypress tree, all offer wonderful views of the Carmel Bay looking north and close up views of the many coves and ragged cliffs above.
The "Old Veteran" cypress tree stand on the edge of a cliff and has been beaten by the wind and fog for hundreds of years.
Maybe You Would Like To Hike A Little Farther
If you enjoy longer more adventurous hikes, ask for trail maps at the Rangers entrance and choose among these longer hikes that take you into the cooler and more wooded sections of the reserve:
South Shore Trail
Laco Lichen Trail
Whalers Knoll Trail and The Whalers Cabin
Pine Ridge Trail
Carmeco Meadow Trail
Moss Cove Trail
Return For More Point Lobos State Reserve Hiking and See Humpback Whales
It would be easy make this Point Lobos State Reserve hiking adventure into a multiple day outing to be sure you see all of this Carmel Coast where natural beauty of every kind is at your feet.

You might even plan to come back during the Humpback and Grey Whale migrations as they are often seen within fifteen feet of the cliffs.