Pfeiffer Beach


Pfeiffer Beach is one of those iconic places that seems to describe without words, the Big Sur Coast experience. The stunning mile long beach and rugged rock outcroppings are perfect for a romantic adventure and a photographers dream ... but make sure you arrive at the right time to truly enjoy this adventure.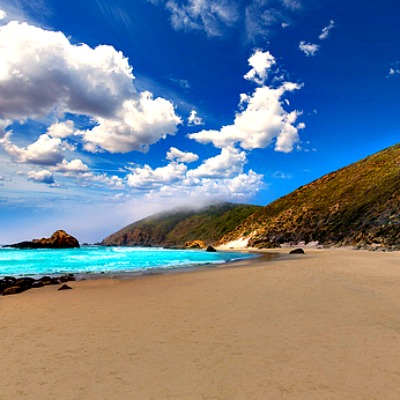 Turquoise Water And Almost A Mile Of Beach
Pfeiffer Beach Can Be Hard To Find, But Well Worth A Little Bit Of Effort


Pfeiffer Beach is a stunning location where the many rock formations leave you with an appreciation for the incredibly powerful and relentless action of this areas ocean waves.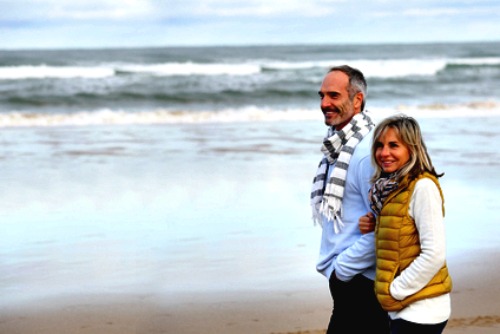 Couple That Are Well Prepared For A Windy Day At Pfeiffer Beach
This place is legendary among tourists. It's said that locals hide the signs to limit vistors to this pristine beach, and that the access roards are narrow and hard to find ... that traffic at certain times of the day requires vehicles to alternate manuvering the twisting roads and pullouts.
But It's OK!
The hardest part is finding the unnamed Sycamore Road that takes you to Pfeiffer Beach, but a few hints will get you to the turn off without any worry.
The Big Sur Bakery is your landmark and it sits only about 300  feet from the sudden downhill turnoff.Look for the highway milemarker M 45.64, make the turn and then look for the yellow narrow road sign that cleverly prepares you for your desent to the beach.
This is a narrow one lane bumpy road that has pullouts so cars can pass.
After about 2 miles, you will see the Pfeiffer State Beach sign and the small parking lot. If you traveled here in the morning there should be room, but be prepoared to wait for an exiting car so you can have the next space. There is a $10 fee and cash is required. If you already paid to enter another state park your entry will be at no cost.
If it's a weekend or during popular summer travel, a ranger will be at the top, of Sycamore Road where it meets the highway and he will alert you to another place to park so you can walk the 2 miles down to the beach ... easy going down but a little tougher coming back up.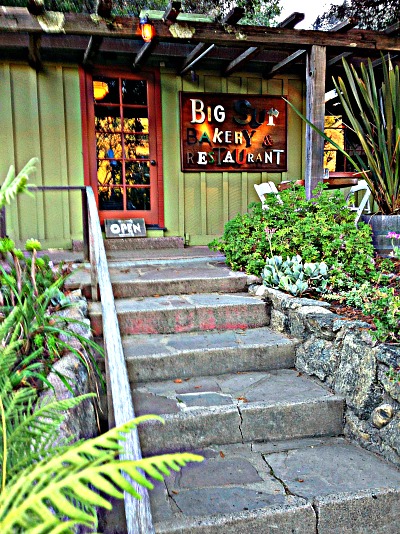 Watch For The Big Sur Bakery Just Before You Reach THe Narrow Road To The Beach
It Can Be Windy ... But This Idyllic Spot On The Coast Is So Romantic!
Maybe it's the manganese purplish sand, or the turquoise water or the sound of huge crashing waves that lend to this as a romantic place, but be assured whatever it is ... that it is amazingly romantic, especially if the tide is out and the wind subdued.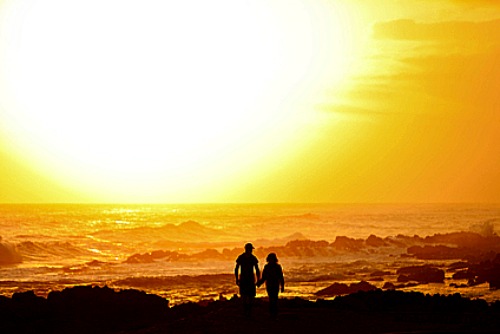 Stay Until Sunset For A Dramatic Ending To Your Day At Big Sur!
If you arrive late in the day when the sun is setting, and maybe just before your dinner reservation at the cliffside Post Ranch restaurant just a few minutes away, this will be without a doubt, one of those really special memories!
It's true that there can be crowds in the summer that finally get directions for the unmarked steep downhill road off the Big Sur Highway but if you do a little homework ahead of time this is an amazing adventure.
First ... the wind here can be fierce and make your trip more like a trip to a sandblasting site, but if you check the weather, leave early in the morning before the winds typically picjk up then you can enjoy an easy trip on the narrow and short roard that takes up to this amazing beach.
Second ... relax. This iis not another place to check off your list of things to do today  but a place to relax and remember what it feels like to let goo of your agenda nd be totally absorbed in the moment at tone of the most beautiful places on Earth.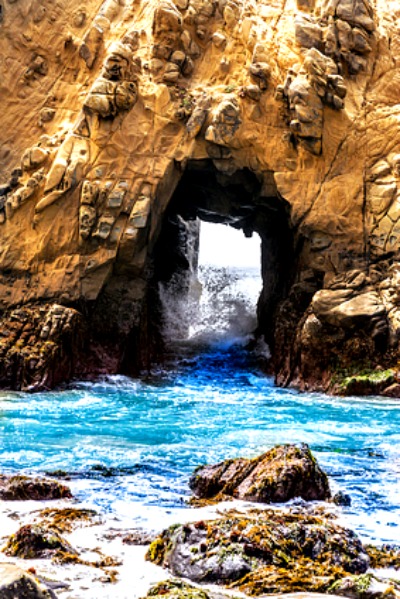 Rocky Formations Testify To The Power of These Waves!
Pfeiffer Beach Ranked Number One By Trip Advsior
Of all the places in Big Sur that offer stunning scenery, this was ranked the best of the best in Big Sur.
It's a Beautiful Beach But Be Careful!
The beach is a wonderful place to visit and to ponder the important things but be careful. You may see the sign that tells of an 11 year old girl that was pulled into the rip tides just off shore and her mother and grandmother who also died trying to save her. 
The waves are powerful so please give them some attention.
Very Romantic  If The Wind Dosen't Blow You Away
Pfeiffer Beach is a great place to walk and hold hands. There is something about the beauty of Big Sur that brings people closer ... just watch out for the wind!
Rock Formations That Remind You Of The Power Of These Waves