Romantic 17 Mile Drive for a Couples California Getaway


The whole world seems to know about the 17 mile drive at Pebble Beach.
After all, eight million vehicles in the last 15 years have passed thru one of the five gates that separate this scenic wonderland from the rest of Monterey and Pacific Grove.
The view is the same, but the experience is quite different from a hundred years ago when wagon trains escorted enthusiastic picnic'ers from Monterey and San Francisco to these waters where the Del Monte Forest meets the sea.
Visitors still come for the same reasons as they did in 1910. They seek the beauty of the pounding surf, jaged rock outcropings, multiple shade of blue and turquoise and emerald green forests.
They also come here to escape the grind of daily life, just as they did a hundred years ago, and to find romance. Holding hands here as you will notice, is almost commonplace. 
Hollywood Put Pebble Beach On The Map!


The world came to know this place in part by the hollywood movies were filmed here. 
Elizabeth Taylor was among the first in the movie "National Velvet" followed by "One-Eyed Jack" with Karl Malden and Marlon Brando and "The Caddie" with Jery Lewis and Dean Martin. 
The most recent hollywood production was the Disney movie "Escape from Witch Mountain"
Now everyone seems to know about Pebble Beach.
Everything changed when the Pebble Beach Lodge opened in 1919. Architects had a vision for what would become a resort and placed the lodge on the best possible site right on a peninsula that juts out into the ocean. Who knew how it's popularity would change this little slice of the world.
So make sure you have a full tank of gas, and bring $10 cash for the security guards at each of the five gates, and follow the red dashes on the road that indicate you are on 17 Mile Drive. Enjoy the almost 20 scenic stops along the way, and In case you were wondering ...  yes the route is exactly 17 miles long.
Along the way you will see a posted stop for the Lone Cypress Tree, perhaps the most photographed tree in the world. This ancient and rugged tree is only one of a very few who live only here and in Point Lobos State Reserve just a few miles south of Carmel-By-The-Sea. Some say it's more than 250 years old now so see it while you can. The life expectancy of a Cypress tree on the coast is about 300 years.
There are other "ghost cypress" trees on the 17 mile drive, so keep a look out for the bleached remains of those that stood here before.
Strictly speaking, this is a private community with opulant homes worth millions, and sometimes multi-millions of dollars. 
The last time I checked, Bill Murray and George Lopez still live here. Myabe you'll see them at the Pebble Beach Market!

How To Get Here!


Getting here is easy. The three main gates are located in Montgerey, Carmel-By-The-Sea, and in Pacific Grove. The Monterey exit is the easiest to find as highway 68 is just south of Monterey on Highway 1. If your already in Carmel-By-The-Sea, drive toward Carmel City Beach and turn right on San Antonio just before you get to the beach parking lot and follow the curving drive through the residential district to the entry gate.
Carmel Gate at San Antonio Road (recommended) make sure to turn left as soon as you go thru the gate (Ask the guard)
Pacific Grove Gate on Sunset Drive in Pacific Grove
Highway 68 Monterey Gate just before you get to Carmel
https://www.google.com/maps/place/17+Mile+Dr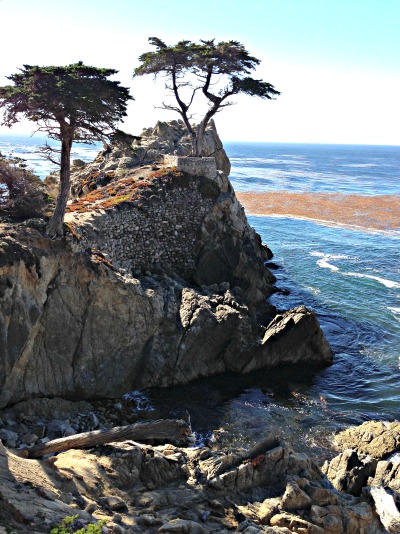 The Infamous 250 Year Old Lone Cypress Tree On 17 Mile Drive
Stop #16 On Your Map
Seventeen Mile Drive is a place where you can truly discover the peace and tranquility of this part of the Pacific Ocean.
This is a place to slow down, to avoid the tendancy to hurry on to the next "stop" on the drive to see yet another exciting view.
Instead, take an extra 10 minutes and listen to the sound of the waves as they crash onshore and to the seabirds and seals, that cavort just a few hundred yards away. 
You will be amazed at how this tour of the coast can relax even the most weary. Watch for the couples holding hands ... thay tell the whole story of why many come here.
| | | |
| --- | --- | --- |
| Great Places To Walk | Tiny Coves For Exploring | Best Sunsets Anywhere |
When Is The Best Time To Visit?


Late April, early May or late September seems to be the very best months for a visit here. Fog is prevelant during the summer months especially in the mornings. Check temperatures in the valley. If Sacramento is expected to be above 90 degrees, you can almost bet that the ocean will be overcast at least part of the day.
There are a few special events that may affect your travel plans to the 17 Mile Drive:
The Concours d'Elegance third weekend in August. 17 mile Drive is closed unless you bought a $350 ticket to the show
The Pebble Beach Food and Wine Festival early April. 17 Mile Drive is open, but expect crowds near the Pebble Beach Lodge
Seal Rock in mid April to June 1st. 17 Mile Drive is open but fences are up along a short stretch to protect newborn seal pups during the "pupping" season
To check the weather before you go, there are a number of webcams that can help you plan for your escape:
http://www.pebblebeach.com/golf/pebble-beach-golf-links/live-golf-cams/hole18
Weather can be unpredictable, so bring a jacket or sweater and some flip flops. It can be absolutely still or windy, slightly foggy or blissfuly clear. You can expect the weather to be about 6 to 8 degrees cooler than in Monterey. 
I have been here many times, and outside of a little wind in a few places, this is just about perfect weather.
Choose Your Stops And Pullouts


You can make all 21 stops along 17 mile Drive if you like, but these are my favorites if you don't have extended time:
My Recommendations:
The Lone Cypress Tree-

250 years and still holding on to the ragged point on the coast

The Restless Sea-

Magnificant vistas of craggy rock and white water

Fanshell Beach- Harbour seals birth their young between early April and mid June
Point Joe-

This place is the site of many 19th century shipwrecks

Bird Rock-

Pelicans, Western Sea gulls and cormorants challenge each other for a place to rest

Spanish Bay- 1769 campsite for sailors looking for Monterey Bay
Ostrich Tree- Not on the official map but look for two trees intertwined and leaning on each other
Witch Tree- Fell in a storm in 1964 but had an erie appearance. The tree was used as a backdrop for Doris Day's movie "Julie" and the bleached remains can still be seen today


Three Beaches ... One Hidden, One Sometimes Windy, And One Seldom Visited


It's Almost Automatic To Do This!
Visitors to Monterey who have never been to Pebble Beach are expectidly looking for a famous beach filled with shiny water wworn pebbles. Truth is, that the beaches here are not well known. There are two, maybe three beaches that are part of the Pebble Beach territory that very few know about. 
A Hidden Beach - Stillwater Cove is a very private beach that only the kayak'ers and divers seem to know about. Get away from the hundreds that take the 17 mile drive stop by stop, and venture to this tiny but scenic beach. Stillwater Cove sits just below the 9th hole on the Pebble Beach Lodge links, and just adjacent to the Pebble Beach Swim And Tennis Center that is only open to residents and those who stay the Lodge. It can be a little tricky to find, but follow these directions and blend in with the locals. Take the Carmel Station Gate entrance at San Antonio Drive, turn left after you enter Pebble Beach and then a left on Palmero Way. Go about a half mile to Cypress Drive and down to the Pebble Beach Swim andTennis Club for your almost private beach. Take the stairs down to the beach and walk south to the quietest stretch.

T

his is the spot that gave Pebble Beach it's name. Travelers by horseback and carriage from San Francisco visited this agate and pebble strewn beach and the story grew as travelers returned to San Francisco and shared their adventures here.
Fanshell Beach- Located directly on the 17 Mile Drive and near the end before you exit on the Pacific Grove Gate. This can be perfect but it can also be windy so be prepared. When the weathe is favorable, this is a great place to stop for a picnic or stroll on the beach
Beach at Spanish Bay-It seems that this beach is only familiar to those who have accommodations here and have time to explore. But this is a terriffic beach with tiny coves and a board walk that takes you to nice little beaches. Get some sandwiches from the Market near the Peble Beach Lodge, or ask for take out at Roy's within the Spanish Bay Resort and have a private beach picnic. If your adventurous, the beach continues with a few unlikely turns all the way to Asilomar Beach just outside 17 Mile Drive

Picnic Tables At China Rock and Fanshell Beach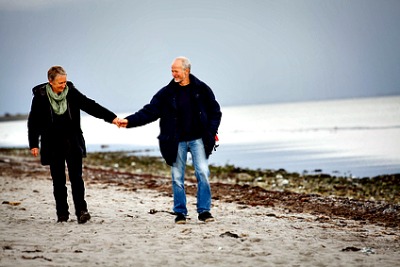 And This ...
If you like the idea of an actual table for your romantic picnic along the17 Mile Drive look for them scattered near the parking lots by Point Joe, Seal Rock and Fanshell Beach pullouts. If the wind is blowing and you don't like sand in your tuna fish sandwich, take your lunch to the Inn at Spanish Bay and sit outside at the fireside tables. Just make sure you buy a beverage or something and be polite so you don't take tables away from paying customers.
Reclaim Your $10 Entrance Fee On 17 Mile Drive


The ten doillars can be reclaimed if you spend at least $30 while your in Pebble Beach.
But that might buy you lunch and a drink or a couple of sandwiches at the Pebble Beach Market and Deli across from the Pebble Beach Lodge.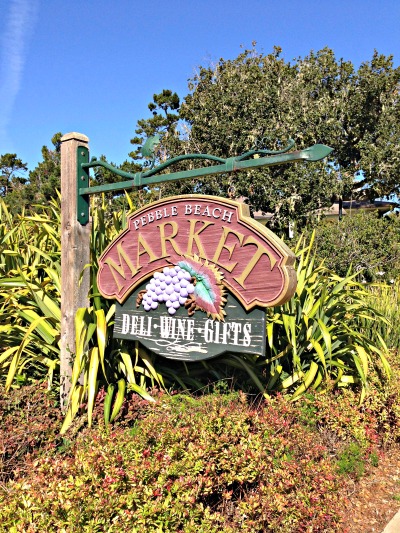 Use You Receipt To Buy A Snack!
Maybe Spend A Little Time Shopping?


Some love to shop wherever they go, and your best opportunities to shop here are at the "Lodge" or at The Inn At Spanish Bay" where resort clothing, and golf attire can be found.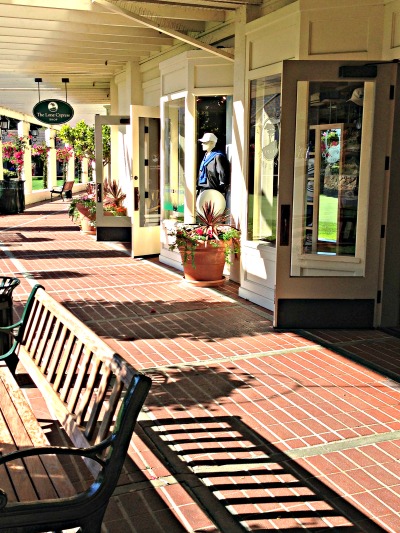 Where To Dine In Pebble Beach


If your here for just the day, and your in a casual mood, my recommendation would be  to enjoy your meal at either the "Bench Restaurant" at the Pebble Beach Lodge or at Roy's at the Inn At Spanish Bay.A compolete description of what you can expect can be found on the Pebble Beach Restaurants page.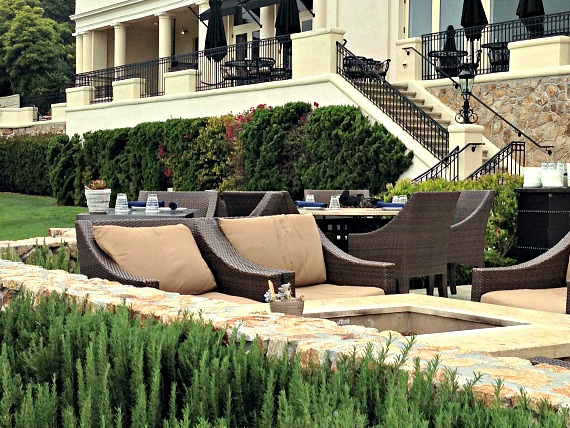 The "Bench" Restaurant At The Pebble Beach Lodge
In both locations, you are right in front of the Pacific Ocean. If it's nice out try Roy's and the outside terrace with fireplaces and blankets if you need them.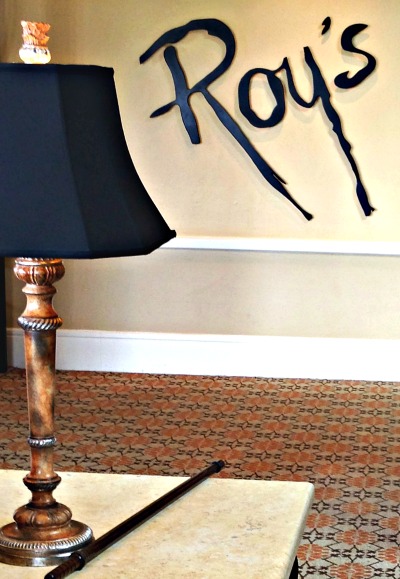 Roy's At Spanish Bay
Sunsets At Pebble Beach


If you can, stay for the sunsets!
It might be sitting in comfy chairs at the Terrace Lounge at the Pebble Beach Lodge or in front of the fireplaces on the deck of the Inn At Spanish Bay, but these sunsets are memorable.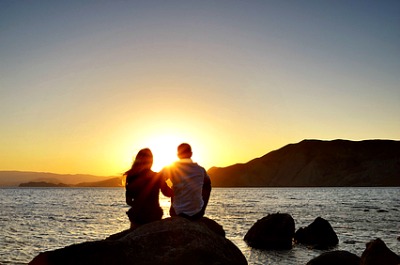 Romantic Carmel Coast Home  > Things to Do in Pebble Beach > Romantic 17 Mile Drive