Romantic Cannery Row Monterey California

Cannery Row Monterey is a wonderfully romantic destination!
This stunning Monterey Bay location creates the scenic backdrop for those long romantic walks along the cliffs, or while taking a tour of the Monterey Bay Aquarium on Cannery Row.
Most come here for the scenery, unique restaurants and shopping. They also come for the feeling of relaxation that the ocean air and crashing waves bring to the senses. It's not unusual to see couples of every age range holding hands as they explore all there is to experience on the "Row."
Restaurant On The Monterey Bay
You Can't Visit Here Without A Little Shopping
If you choose to stay at one of the waterfront hotels on Cannery Row Monterey, you probably now realize that everyting shopping and even the famous Monterey Bay Aquarium is within minutes of your room.
Maybe you want to shop and take in the over fifty shops on a street that once was lined  with smelly sardine factories churning out canned fish at the string of businesses once lined up along the waters edge.
There are wine tasting shops, toy stores, antiques, intersting jewelery and chocolate tasting ... just waiting for you along Cannery Row Monterey.
A Taste of Monterey has everything ... even beer. They represent over eighty five local  wineries, and have a bistro bar with a view that screems nice! ... can't get much better.
There is also Bargettos from Santa Cruz, and the Carmel Ridge tasting room  ashort distance away, so you have plenty of choices.
Dining On Cannery Row
There are many restaurants on Cannery Row Monterey that cater to the hundreds of visitors that have made the "Row" their preferred escape for the day, but only  a few ... actually only two, that truly meet the needs of those on a special date or celebrating a romantic anniversary.
The Sardine Factory has been in the same location, and serving the same excellent food since 1968.
There are several themed dinning rooms including The Lounge, The Conservatory, and the Captain's Room, each decorated in period furniture complete with fireplaces. If this is your first visit, you might book a reservation in the Conservatory Dining room. Entrees here can be pricey, but if your schedule allows you to arrive by 6:30, the early dining option can save you bundles. For about $30, you can enjoy a three course meal with Monterey clam chowder, Abalone Bisque, a choice of Petrale sole or Cioppino, and then for dessert enjoy a dollop of very smooth chocolate moose. A price for an entree alone after 6:30 PM will set you back $30 to $40.
There is a piano in the bar that sets the stage for a wonderful close for the evening. You can snuggle up to a blazing fire, and join in with Dave Conely at the factory lounge on Tuesday thru Saturday nights beginning about 7:30 PM.
As you listen to the mellow sounds from the piano bar, consider that the Sardine Factory has over 30,000 varieties of wine. Their wine list looks more like a book than a wine list.
This is the place to linger after your early dinner. The setting is perfect for long conversations that you will remember for years to come.
And yes, this would be my first choice for a fine dining experience on Cannery Row
701 Wave Avenue 1 block off Cannery Row 831 373 3775 
The "C" Restaurant At The Intercontinental is probably your best choice for a romantic dining experience if you are looking for imaginative cuisine, outstanding ocean views, and a chic setting that offers a nice diversion from the sometimes crowded and noisy atmosphere of other restaurants.
If your plans allow for dining before the sun goes down, the views here are captivating  and seems to make the food even better. Service is deliberate and unhurried, and your conversations won't be interrupted by overly zealous waiters
Happy hour glasses of wine are only $3.75 and valet parking is free with validation. Just about every table is set within bay windows with views of the ocean that ... well, make the food seems all that much better.
When The Sun Goes Down, It's Time To
Enjoy The Nightlife!
If you have been out kayaking or walking on the beach, it might be a great idea to stoll on down to the activity of Cannery Row Monterey and explore the after hours music and comedy that is to be found within a short walk.
Many restaurants on Cannery Row Monterey offer incredibly good food and terrific happy hour specials, but when the sun goes down, they also offer everything from piano bars to classic fifties music.
If your a fan of R and B or classic fifties then head on over to Sly Mc Fly's. Sly's is well known as the best place for late night dancing and teriffic music acts. It gets crowded here, and the stage is really small but if you don't minfd the c"cozy: atmosphere you will enjoy this place. Live music seven nights a week!
If you have a little exibitionist lying dormant in your psyche, you might even venture over to thee Blue Fin Cafe, where on Monday nights the happy hour specials seem to draw out everyone who thinks they can sing like Lisa Minnelli. If you can't sing, don't worry, they have pool tournaments as well.
If classic guitar is your style, visit the "C" restaurant lounge at the Intercontinental Clement at 750 Cannery Row.
Schooners right on the "Row" at 400 Cannery Row has great Jazz lineups on weekends and weekdays during the summer.
If your day on the water was too exhausting for a lot of excitement consider cocktails around a fire pit at BullWhackers Restaurant.
On Friday nights at the Monterey Plaza Hotel and Spa, Thank Goodness It's Friday specials, offer outstanding bargins like:
$5 fish and chips 
$5 Calamari 
$5 Beer 
If your here on a Friday or Saturday night, enjoy casual music while dining on one of their famous chowders.
Looking Back In Time ...  What About John Steinbeck
The real history of Cannery Row Monterey is one filled with the stories of the "Hard life" that most who tried to eek out a living here. Canneries lined Ocean View Av thu the boom and bust years and John Steinbeck's "Cannery Row" drew attention to what it was really like here...smelly, and ugly.
The expanding fishing industry led to more and more canneries along the Monterey Bay. From what is now known as Fisherman's Wharf to Lovers Point in Pacific Grove.
The fist company was the Pacific Fish Company in 1908. Ten years later, canneries lined up all along the streets here.
The cold and nutrient rich waters from the deep Monterey Canyon just outside the bluffs of Pacific Grove provided enough fish for the canneries until the sardines were overfished and the surge ended. The sardines disappeared after the Second World War and the entire area fell into decay.
The name Cannery Row was coined thirteen years after John Steinbeck published his book "Cannery Row" and led visitors to come see what the book was all about.
John Steinbeck was an influential voice in those times and if you haven't read his books, you might start with "Cannery Row" and then "Grapes of Wrath" both commentaries on life in the Salinas Valley and along the Monterey Bay.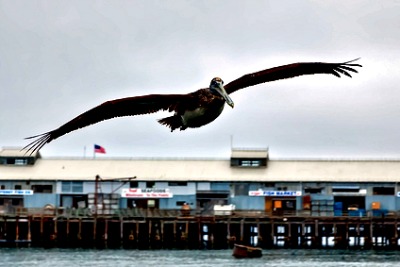 Sea Pelicans Everywhere
The Understated Beauty Of the Monterey Peninsula
You could spend months exploring this vast speck of Mother Natures best work. 
If you get an opportunity to return, to Cannery Row Monterey, we hope you will take advantage of the opportunity to explore these examples of the natural world and linger here for awhile and remember the romance.
Robert Louis Stevensen said it best when he declared that "This is the greatest meeting of land and sea anywhere."
  Romantic Carmel Coast > Things to Do in Monterey >  Cannery Row Monterey