Discover Carmel Art Galleries

Carmel art galleries it seems, are everywhere you look when strolling by the shops and restaurants on Ocean Avenue and even in isolated areas of Monterey and Pacific Grove.
The Carmel coast was once an enclave for Bohemian artists and writers from San Francisco and environs who escaped the city to find inspiration along the Carmel coast back in the early 1900's. It now beckons many from just about every country who want that experience of "lightness" and beauty that many describe when visiting this village near the sea.
Just imagine, back in that era you could buy land for $100 an acre.
One Of A Kind Original Art
Art galleries in Carmel are among the best and well known in the world. In this tiny coastal community you will find over a hundred galleries representing six hundred plus artists, sculptors and innovative craftsmen scattered within vintage shops along charming courtyards and tucked into unknown places that reflect an European ambiance.

Here you will find a large variety of large formal photography of the Carmel, Point Lobos and the incomparable Big Sur as well as the vivid colors and errant shapes of contemporary art with it's images that compel you to look just a little longer.

Impressionism art is widely represented and at several galleries,as well as  stone and metal sculpture that may be just what you need in your home to remind you of this excursion to the Sea.
Many Choices...Explore Here First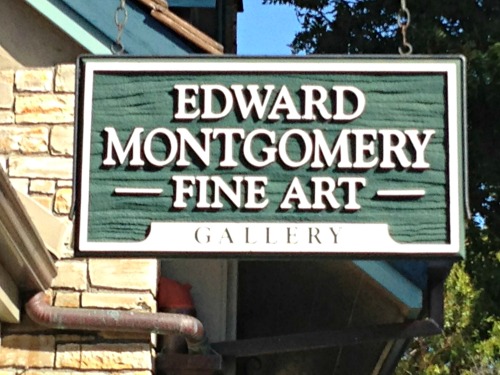 My favorite galleries are all in Carmel and in the vintage downtown neighborhood. You might have lunch at one of the many excellent restaurants on Ocean Avenue.
You might begin your tour at Gallery Elite on San Carlos between 5th and 6th Avenue. In this gallery you will find work representing over thirty artists who's style ranges from impressionism to contemporary. You will even find an interior design collection of chandeliers and wall lighting that is not to be easily found.
Montgomery Fine Art is located on "Gallery Row" near Dolores and Ocean. The work is from established and emerging international artists. This is a beautiful gallery! Ask to see the contemporary work of Clifford Bailey or Kenny Neizman and see if there might be a place in your home for these eye catching pieces. The colors are phenomenal.
Dawson Cole Galleries at the corner of Lincoln and Sixth is another favorite as is Gallery Sur at Sixth between Dolores and Lincoln with wonderful large format photography of Big Sur, golf Photography and stone sculpture. Their gallery is near Lincoln and sixth and has a wonderfully bright and airy interior.
Zantman Studios are located at Sixth and Mission. If you don't see what you like on display, ask Rita for a description of the many in back rooms. Staff is very friendly here.
While your in the ideal location, stop in at the New Master's Gallery at Dolores and Ocean. Bill has been here in Carmel for thirty six years and features fine art and sculpture artists from all around the world.
Many visitors to these art galleries have strong preferences for a specific variety of art forms. If you are in search of art for your personal collection, or just need one inspirational piece, consider that all of the following media are within your reach:
Abstract Paintings, Acrylics, Animal Portraits, African Art Bronze Sculpture 
Ceramics Glazed, Clay, Copper, Fabric Design, Fantasy Art,  
Figurative Paintings, Fine glass, Folk Art, Giclee Print and Processing
Gourds, Handmade Paper Collage, Japanese traditional landscape  
Landscape, Marine, Mixed Media, Mobil Sculptures, Murals
Neo Impressionism, Oceanscapes, Oils, Pastel Landscape
Pen and Pencil Drawings Sketches, Photographic Prints, Photography, Plein Air Pointillism 
Portraits, Prints and lithographs, seascapes and stone sculpture
Studio Tours and Art Walks
Studio tours and Art walks are great informal way to visit fifty plus artists who have studios near Carmel. Enjoy a personal encounter with the artists and discover more about them as you consider their work.
Sponsored by the Carmel Art Association and Carmel art galleries, these can be invaluable opportunities to make your purchase of art, sculpture or other media.They are typically scheduled in Spring and Fall.
Vintage Art...Antiques 
Vintage antiques surprisingly work very nicely next to contemporary art. There are a few antique and vintage art galleries in Carmel and represent a nice diversion from modern galleries. 
Off the Wall Antiques offers something not usually available anywhere else. Just off Ocean at Lincoln near 5th Avenue, this gem offers "rescued artifacts" that can be very difficult to find. 
Pedestal sinks
Drawer pulls
Footed antique tubs
Leaded glass
French cupboards
If you are among many who believe that these artifacts carry emotional value that beckons back to an era where craftsmanship and integrity mattered, this shop will be a rare find for you.
Robertson's Antiques near Dolores and Seventh has been around since 1972 and is your source for coins, clocks, jewelry and china and they are happy to appraise anything you can carry into their shop...very friendly too!
Wittipenns Antiques near San Carlos between Seventh and Eight Avenues specialize in Victorian furniture, rare porcelain, clocks and silver. Chip and Kathy will help you understand and guide you with your purchase.
Jane Austin Antiques located between Lincoln and Monte Vista, specializes in English antiques, porcelain and large scale furniture and case goods as well. This is a delightful shop where you can browse for jewelry and maybe find that unique vintage wedding gift.
Perfect Opportunity!
The charming village of Carmel By The Sea sets the perfect stage for those who enjoy fine dining, great entertainment, beautiful beaches and great opportunities to acquire that choice piece of personal art.
Carmel art galleries are known worldwide, and present "A moment in time" for those who visit to select that perfect artistic addition for your office or home.
Whatever your preference, it's likely that your emotions will be stirred once you begin your search. Carmel Art Galleries are wonderful places to find that perfect "piece" for your personal collection.
Mention this website as some galleries on occasion will offer a 5% to 20 % discount from website visitors.
Romantic Carmel Coast Homepage  > Things to Do in Carmel > Carmel Art Galleries