Kirk Creek Campground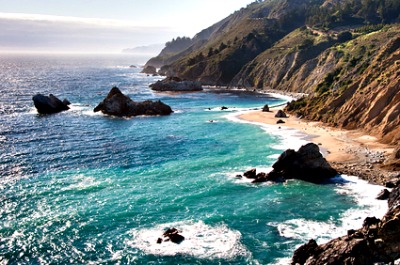 Top Rated Campgrounds and Scenic Beaches!
The Kirk Creek Campground and beach area offers some of the best camping experiences in the Pacific Northwest according to Sunset Magazine. It' also the only camping destination in California rated among the best ten in the United States according to GORP (Great Outdoors Recreation Pages/2010). 
Sea birds playfully ride the wind. Waves crash on the beach just a few hundred yards below your campsite, and the lure of toes in the surf make you want to quicken your approach to the waters edge.
All your cares fall away, and it's just the two of you, the beauty of nature and your newly discovered camping getaway.  
This is truly a favorite and romantic place for those fortunate enough to be able to visit and stay a few days.
Set in the Los Padres National Forest at the southern tip of the eighty mile long Big Sur coastline, this is THE place to stay ...  resting just a hundred feet above the Pacific Ocean.
It's unlikely that you could find a better beach, a nicer campground and more scenic or romantic hiking trails anywhere else in California for an out of pocket expense of twenty two dollars for each splendid day you can steal away to stay here. I have traveled and explored the entire west coast of the United States and I have a less than subtle suggestion.
Pack your car and forget your obligations for a little while.
Leave the bills in your mailbox, and just get away to Sand Dollar Beach. Get away to this unique place that puts you on uncrowded beaches, and a chance for you to sleep under a blanket of stars. In the morning, you will wake to the pristine beauty of Big Sur along with your favorite companion ... all for just twenty two dollars each memorable day.
Where Else Could You Stay At Big Sur For Only Twenty Two Dollars A Night?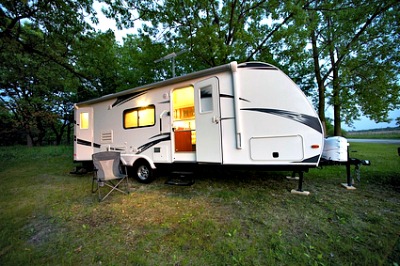 Plenty Of RV Parking With Ocean Views
That romantic weekend you hoped for is just about to get better!
Kirk Creek Campgound sits on a bluff overlooking a beautiful section of the Big Sur coast. Sites #14, #22  #19, #17, #15, #11, #9 are among the more popular.
Spread out a blanket at night next to your tent and watch as blankets of stars, unlike anything you have seen before parade past you in the night sky.
There is a small rock beach right across the Hiway from Kirk Creek Campgrpound. It's a steep and narrow trail that gets you there, but provides a little taste of the ocean.For a real thrill, drive the five miles north to Sand Dollar Beach ... and the largest cresHent shaped walkable beach in all of Big Sur. Bring that well used blanket along in case you feel a need to cuddle up after your strenuous walk. 
You Might Want To Bring Your Own Water and Food 
While this is definitely a supremely romantic destination, it's not perfect.
There is no potable water on site, and if you find yourselves needing drinking water, you will pay the handsome price of $4 a gallon in the nearby hamlet of Gorda.
Firewood is $7 a bundle, and fuel for that chariot that brought you here will ... well, just fill up long before you get this far away from civilization. 
Panoramic Kirk Creek Campground With Views Forever
There are camping sites, RV sites and bicycle sites. Vault bathrooms are scattered around the campsite but no showers. But who cares when you know you will sleep soundly lulled into slumber by the whooshing of crashing waves just below your site. 
Fees: $9 reservation fee $10 to cancel
It's important to reserve this highly rated camping location as soon as you know your going, because it's becoming more well know and appeals to those traveling the entire coast of Big Sur.
This certainly beats the $55 a night in the village of Big Sur up the Hiway or the $300 a night often charged by the resorts.
Keep your food locked in the car. Curious raccoons enjoy this location as well, and are just waiting for the treats you brought with you. 
Kirk Creek Campground
P0 Box 1018
Templeton CA 93465
805.434.1996
Return To Top Of Page Kirk Creek Campground