Mission Ranch Carmel


Mission Ranch Carmel is a quiet and charming retreat from the often busy streets of Carmel and Monterey. The "Ranch" is perched on twenty two acres of prime oceanfront land that once was the grazing fields for one of California's first dairy's.
There were plans to build condos on these acres of land surrounded with cypress trees that look out onto Carmel River Beach to the west, Point Lobos State Reserve to the south, and the emerald green Santa Lucia mountains to the east ... but the plan changed.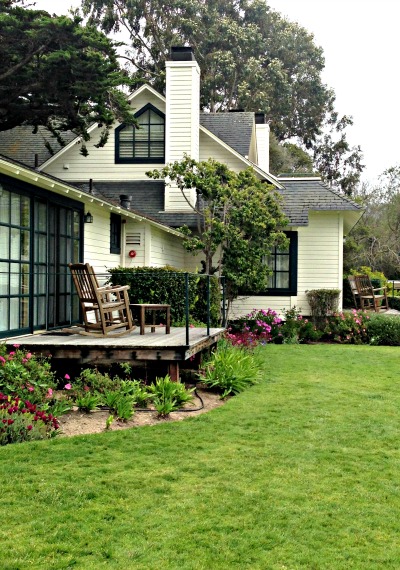 Clint Eastwood, the famous actor and former mayor of Carmel, was the driving force that stopped the condo development, and then spent a great deal of time and money restoring the 1800's era buildings where once cows were milked and hay was stored, into a place that would make even the most persnickedy visitor feel welcome.
Today, a small herd of sheep graze on much of the twenty acres of land and lend a casual ambiance to a decidedly relaxed atmosphere.
If you Get The Opportunity, Stay In One Of The Duplex Or Triplex Suites That Face The Ocean
| | | |
| --- | --- | --- |
| Welcome To Mission Ranch! | Tennis And Fitness Club Today ... Hiking Tomorrow?  | 1980's Architecture Updated With WiFi |

Mission Ranch And It's Interesting Incarnations
Since The Year Eighteen Fifty


Mission Ranch Carmel has a long history and of course many stories to tell.
Originally this part of the Pacific Coast was a parcel of 160 acres in size and was bought, if you can hardly imagine, for the lofty sum of $300 in 1850 by a fellow named William Curry.
William owned this land for 60 years. In the following decades the land was owned by a number of business interests including the United States Navy and the United States Army, who converted these buildings into an officers club during World War 11.
Some of the windows in the dining room at the "Ranch" where you enjoyed your dinner last night, may have been among those that were "blacked" out at times when the Japanese threat was high.
There were also rowdy and lively bars and dance clubs that sprouted up during the decades, until it was purchased by Clint Eastwood in 1986 and the restoration of thismagnificant piece of land began to make it's metamorphosis.
Yes "Clint" Often Visits Here For Dinner And Sometimes Even Plays At The Piano Bar


While your here, you might even see Clint Eastwood the famous actor, who appeared in "Million Dollar Baby" in 2004 or Gran Torinoin 2008, or "Play Misty for Me" filmed right along Carmel beach in 1971.
Clint was who once was mayor of this tiny hamlet and who still resides in the area owns the Mission Ranch Inn where he dines frequently with his family and sometimes greets fans around the piano bar.
The piano bar is right out in the open and two different pianists rotate during the wek to bring diners the romantic sounds that only a piano can make. A little later in the evening, beginning at 8:00 PM, the piano bar is open to guests that are encouraged to "Sing along" as the evening begins to mellow. At times I hear, even karraoke nights  inspires the crown to show off their own wonderful, unique or bizzare singing talents.
On my last visit to the Mission Ranch Carmel Restaurant for dinner, Clint stood next to me while in conversation, and to my suprise he didn't look at all as tall as he was in the movies, or nearly as intimidating. 
If you do decide to stay at this Carmel hotel, and you don't mind spending a little more for the experience, I suggest that you choose the Triplex or Duplex cottages with full ocean view or the Honeymoon Cottage with it's incredibly romantic atmosphere, and plan on lunch on the restaurant deck overlooking green pastures with herds of sheep and views of spectacular Point Lobos State Reserve and the Pacific Ocean in the distance. 
Rest In A Vintage Setting With The Charm Of Yesteday And the Excellence Of Designer Furnishings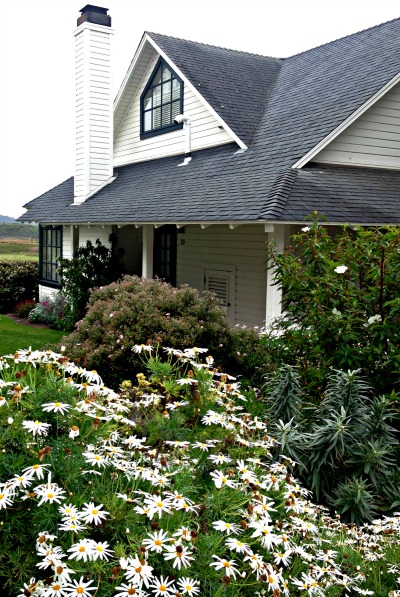 TriPlex Suites Overlooking Green Pastures
If you finally get a chance to escape the busy world we all live in, and have made a pledge to find a place to relax and focus on relationships for awhile, then the Mission Ranch Carmel should be on your short list.
All of the accommodations here have been carefully restored to be not only authentic, but to provide the environment that makes those who visit here feel totally relaxed.
Designers have brought in coordinated furnishing of high quality. Pitched, and sometimes multi-pitched ceilings and wide open views are available in many of the various buildings.
Clint Eastwood brought only the best crafts people to replace and replicate tired mouldings and hardware.
There are 31 rooms in total at the "Ranch" and each building has it's own mystery and sense of tranquil elegance.
A few of your choices:
The Hayloft-Pitched ceilings, a cast iron fireplace and a whirlpool tub make this one of the most private buildings. 
The Honeymoon Cottage-This is soooo romantic! Pitched ceilings, a fireplace, a living room and whirlpool tub. 
The Bunkhouse-Cozy and elegant with 2 seperate bedrooms, designer furnishings and a fireplace. 
The Farmhouse-Six bedrooms with a shared living room and fireplace, leather wing back chairs and a lot of vintage beauty. 
The Fourplex and Triplex Suites- Very elegant with multi-pitched ceilings, fireplace, whirlpool tub and wonderful views of the Pacific Ocean in the distance. 
The Honeymoon Cottage!
The Wildlife Is Friendly!


While you can't climb the fence and go pet these critters, they certainly remind you to take things a little slower while you are here. Walk the nine blocks to Carmel River Beach, hold hands for awhile take a few deep breaths, and celebrate your decision to escape!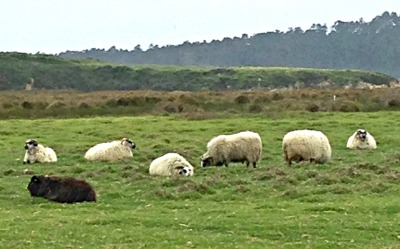 Part Of The Tribe Of "Mascot" Sheep At The "Ranch"
The Restaurant At Mission Ranch Carmel


Chef Barragan brings 25 years of service to the Mission Ranch Carmel and has prepared a delictable and innovative menu that gets high praise from diners. The main course at the Mission Ranch Restaurant range in price from $9 for a bountiful caesar salad to $30 for The Catch of the Day to $50 for Filet Mignon and Lobster Tail.
During my last visit, I had the sea scallops with butter and caper sauce which were tender and sweet ... just perfect.
The restaurant is small and unpretentious with a fireplace near the piano bar. Service is good but can be spotty at times.
The last time I was here, our waiter was attentive, knowledgebale and enjoyed light banter with our party. Other reviewers have found the food to be excellent, but wait times and snobby waiters and cocktail staff on occassion, have dissapointed some diners enough to dampen what could have been a memorable dining experience.
Patio Dining At Mission Ranch Carmel


Even if you don't stay for several nights at the Mission Ranch, you certainly could enjoy the pastoral scenery and view of the ocean while dining on the patio.The mood is relaxed, the sheep are relaxed and this is a perfect spot for cocktails and dinner.There is a fireplace and heated deck lamps so even if the weather is not perfect, this is still a nice place to be.
If you happen to be here on Sunday, the brunch offered from 10:00 AM to 1:30 PM is not to be missed and has been rated as best in the area.The sounds of live Jazz are all around you on the deck as you blissfully surrender to the power of the ocean.
Brunch is about $30 per person and included champagne.
Cocktail hour during the week begins at 4:00 PM and as you will see if you arrive early ... not a minute sooner!
 My recommendation is to have cocktails here and then enjoy a romantic dinner and spectacular sunsets in Pebble Beach at the Terrace Lounge or at the Bench Restaurant.
Dining On The Deck At Mission Ranch Carmel
A Romantic Place For Weddings "Elopements" Anniversaries, Or A Last Minute Romantic Escape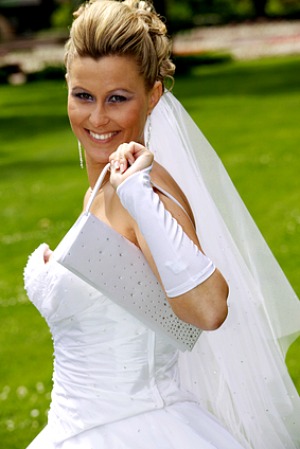 If you are looking for a venue for your wedding, Mission Ranch can help. Staff can accommodate up to 96 people in each of their two barn-like facilities and help you coordinate all of the needed arrangements.
The atmosphere here is one of total relaxation. Fine dining, walks on the beach, and elegant and comfortable furnishings might may you wonder why anyone whould pay a chunk of money to fly to Tahiti when the ocean is right here!
Perfect  for anniversaries, birthdays, unexpected promotions or a suprise escape for the weekend.
If you elect for the simpler but equally splendid route, the Mission Ranch Carmel also has an elopement package catered for just those who are looking for this option.
When Is The Best Time To Visit?


The best time to come here is really anytime you can get away. But if you have a choice, mid September to Thanksgiving are the months when the crowds are gone and the fog is held offshore. This is when you are most likely to have abundant and restorative sunshine. April can be another good time to visit but as always, the coast  anywhere in California is unpredictable.
How Do I Get There?


Following the residential streets in Carmel, especially at night can be a challenge.
Use this map to help:http://www.mapquest.com/maps?city=Carmel-by-the-Sea&state=CA
Take Rio Road off Highway 1 to Lasuen Drive and then to Dolores Avenue ... right behind and down the road from the Carmel Mission. 
Mission Ranch Carmel
26270 Dolores Street
Carmel CA 93923
800.538.8221