Monterey Bay Kayak
A Monterey Bay kayak adventure is a must if you really want to smell and feel the grand beauty of this coastline.
If you are in reasonably good physical shape then this is really easy. My first tour was nothing short of spectacular. You don't realize how different and unique the view can be from the water...it's a whole different experience. 
There are several choices about how to enjoy this experience:
You could take a small group guided tour with an experienced guide who can address your questions and get you your desired spot quickly or
Your might take a solo trip on a double kayak with only yourselves, and the wildlife that you will encounter
Sure you might get your toes a little wet and some sun on your face, but really, it's not that much effort.
You can tour around Point Lobos, one of the most stunning areas of the world, or at Stillwater Cove along Seventeen Mile Drive, and paddle by as you watch the rich and famous play golf.
If your on your way to Point Lobos and depending on the time of the year, you may even see a Humpback whale and her offspring...they love to swim within fifteen feet of the Point Lobos shoreline.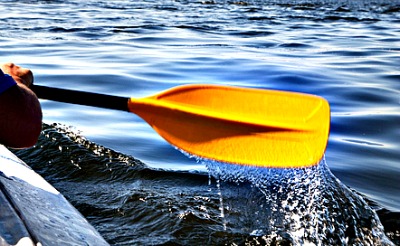 Most kayak outfitters supply both "On top" and "Closed" kayaks for rent. The image to the right is a "closed" configuration and is the preference for those who have some experience  with ocean kayaking. This style make you feel almost like your swimming with the aquatic life in your path.

The "open" kayak keeps you higher above the water and usually a little dryer.
| | |
| --- | --- |
| Tours with several kayakers and a guide may often offer the best experience because you can enjoy what is happening around you without being concerned about where you are going! | |
Paddle Around The Aquarium and Lovers Point Shoreline
If you want to take your first kayak tour around familiar waters then you might consider paddling right near the Monterey Aquarium, Fisherman's Wharf and Cannery Row for your adventure.
The well known Breakwater Cove is right in this area and perfect if you want to combine a short paddle with dining and shopping at the "Row" later in the afternoon when the sun is warm.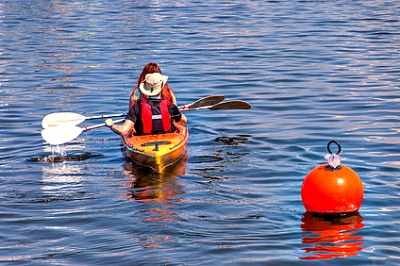 Take An Early Sunday Morning
Tour With a Small Group
For some, a very early morning kayak tour of short distance is the perfect way to get your priorities straight for the day. If that describes you and your touring companion is of the same persuasion, then a tour with Monterey Bay Kayak may be just what you are looking for.
Monterey Bay Kayak will supply you with an on top kayak and wetsuit, life jacket etc. and take you out for a two hour tour of the bay. Wildlife is alive and eager to hunt for food this early in the morning so you will likely see an abundance of Monterey sea life.
When you get back the day is really just beginning for most, but your already intoxicated with the real sense of this day and now it's time for a hearty breakfast and if your eager, a hike and a night's stay amidst the redwoods in Big Sur just an hour and a half down Carmel's magical coastline.
Their tour leaves at 7AM requires a minimum of four people. Be the first ones out and enjoy the calm and serenity of an early morning paddle on the bay!
This reservation Includes use of a sit-on-top double kayak, wetsuit, paddling jacket, lifejacket and all kayak gear. 
Visit Point Lobos And Paddle Next to Humpback Whales



This will be an adventure! As you paddle toward Point Lobos be sure to consider Monastery Beach as a great place to put in and rest.

As you take in the beauty, and glide by stunning scenery at every turn, you will be surrounded by the multiple layers of blue and green water and the sound of crashing waves an abundant sea life.

You  can even explore a cave as you navigate around the boulders near shore.

Watch for the 80,000 pound Humpback whales as they love to rest very near the shore line with their young. The kelp fields and warm water seem to keep the sharks away as they find young whales  a tempting treat.
You could be right here casually hugging these cliffs, listening to the harbor seals and the call of sea lions and grebes, soaring pelicans scouting for food, and mother whales and their babies. You will be very much up front an personal with Mother Nature and at one of the most photographed spots anywhere...
Fish For Dinner On Your Kayak
This probably sounds a bit strange, but what a story to tell.
Bring your own fishing gear, and something to munch on for the morning at Monterey Bay Kayak outfitters in Monterey at 7 AM right near the waters edge, and they will get you set up to catch halibut or sole right out of the water.
If you have shopped for wild halibut at your local grocery store you know fresh halibut can sell for $23 a pound. Aren't you smart to go get your own while enjoying a vacation on the water.
You can make all the arrangements by calling 800-649-5357
True Story Of Eighty Thousand Pound Humpback Encounters
Imagine you are paddling early on a calm morning with nothing in site except your destination and all of a sudden a gigantic pod of Humpback whales surfaces within feet of your lonely little kayak. Well it happened just in Spring of 2013 and right here in Monterey Bay.
The whales were clearly aware of their visitors and when they dove deeper they left the water only three feet from the kayakers. Reports suggested that they were very much aware and sensitive to the kayakers and returned later and swam near them and "hung out" for awhile.
There were photographs taken from fellow kayakers that served as proof that the incident occurred. The whales were drawn by the abundant anchovies that flourish along what is called Submarine Canyon. This canyon influences everything along the Monterey Bay from aquatic life to the weather, and even to wine growing in the area surrounding the bay.
Where To Rent A Kayak
There are number of Kayak outfitters around Monterey Bay.
A single kayak rental will cost about $30 to $50 depending on the type and closer to $100 for a double. Both types of kayaks are available at all outfitters. If you choose the closed type of kyak be prepared to describe the level of experience eyou have had in the past with this type of kayak. They will anatto  be sure you have the experience needed in case you roll over.
If you have a choice and have the right experience, reserve a touring kayak as you are really down close to the water and you feel like your are in the water...much more in touch with your surroundings...and closer to that whale in case one decides to make an unexpected visit.
Light rain will not usually cause any difficulty in obtaining a rental, but if the winds are brisk you might plan this part of your adventure for another day.
Outfitters that are on the Montery Bay include:
Monterey Bay Kayaks  
Monterey Bay Kayaks offers a complete service for those who are interested in the rental of a sea kyak. Chose for open or closed kayak models and enjoy one or several of their custom small group tours to Lovers Point or Stillwater Cove. 
Tour is $50 per person.
You can make a reservation at this number: 
693 Del Monte Avenue, Monterey
(800) 649-5357 or (831) 373-5357
Open daily 8:30am - 5:00pm except Thanksgiving and Christmas day:
8:30am - 3:00pm
You may park in front of Montery Bay Kayak in th public lot...usually about $1.50 an hour...cheap for this part of the Monterey coastline.
Adventures By The Sea
Adventures by the Sea offers a variety of kayaks from $30 per hour and a number of small group tours. 
The kelp forest that exists right of the coastline makes for perfect kayaking. Choose to rent a kayak during the day or plan your adventure in the afternoon after 4PM and take advantage of the "Twilight" rates at significant discounts.
Adventures By The Sea offers you spash suits that go over your clothing, dry bags for cameras and life vests for everyone who rents one of their Kayaks.
Guided tours  often with docents are offered to Breakwater Cove, Cannery Row, and Lovers Point from $60 per person.
Several location in the Monterey Bay including: Call 831.372.1807 for information
624 Ocean Avenue Boulevard   Pacific Grove CA 93950 
299 Cannery Row   Monterey, CA 93940   
685 Cannery Row Monterey, CA 93940   
Above Johnny Rocket's on the Recreation Trail.
32 Cannery Row  Monterey, CA 93940  
Located on the Coast Guard Pier
624 Ocean View Boulevard  Pacific Grove, CA 93950  
Seasonal Location. 
How To Prepare For Your Trip
Most of this advice is common sense but a little extra precaution can be valuable. Consider these tips
Take a tour if this is your first time out on a kayak. It's easy, but a little instruction and a group of friends can make for a better first trip.
Avoid mid day sun if possible. An early morning or late evening kyak tour is earlier on the body and the winds are usual more gentler. Wildlife like these time of the day as week so you are likely to see more of what you came to see.
Wear sunscreen and reply often. Make sure your sunscreen is not dated. I made the mistake once of applying lotion that was two years old and was ineffective against the intense sun.
Wear quick drying clothing. Don't wear cotton or jeans
Wear sunglasses. Obvious, but reflected light can make a easy trip more difficult. Besides you want to see unobstructed views of the beauty in from of you..right? Polorized lens are best.
Take some motion sickness medication the night before and again in the morning if you are motion sickness sensitive. A small breakfast of protein sometimes helps as well.
Bring water because your gonna get dehydrated if you don't.
Bring a camera and binoculars, but make sure you have them protected in a baggie or case. 
Remember The Beauty That Brings Millions Here
Your fortunate to have undertaken this adventure.
Many only view the beauty of this place from a distance, but you were able to get very personal with the real California coastline.
If your Monterey Bay kayaking  experience was like mine, you will leave with a renewed sense of what is really important, and an renewed appreciation for the beauty of this natural scenery. Maybe next time, your experiences here will lead you to other great kayaking destinations like Moss Landing or Big Sur where the kayaking is of a different quality.
There are unlimited things to do and see so plan that return trip now.
Please consider adding comments about you visit to our blog page (link)
Return To Romantic Carmel Coast Top Of Page
Return To Monterey Bay Kayak Top Of Page
Return To Top Of Page Carmel By The Sea For "More Things to Do"