Monterey County Wineries
Monterey County wineries are becoming the go-to destination for wine connoisseurs and casual wine lovers alike. This new interest in estate grown varietals grown locally in the Santa Lucia Highlands, and throughout Monterey County, has vintners excited to share what they have known for a long time.
The conditions here are just about perfect for cultivating those perfectly round and brightly colored baby grapes.
Wine Enthusiast magazine recently awarded Monterey County as one of the Top  Wine & Travel Destinations of 2013 and among the top five wine destinations worldwide.
 

 

Both Monterey and Carmel Valley are enjoying a vitacultural renaissance as these local micro-climates are becoming better understood. 

You can even take a leisurely wine walk in the quaint village of Carmel by the Sea, if your travel plans don't allow for an extended day at the local wineries.
Carmel By the Sea Wine Walk
If your limited on time, but you want to sample the best of Monterey County wineries, you might try the seven tasting rooms right in Carmel just off Ocean Avenue. The walk covers only a few square blocks, and depending on how much conversation ensues, this could be an hour or several hour adventure.
Wines are estate grown locally in the Santa Lucia Highlands and throughout Monterey County. This is a self guided walk that can be as long or as short as you desire.
Try sampling the wines from Cima Collina. They have a half dozen vineyards spreading from the 200 foot level in the the Santa Lucia mountains to the warmer micro-climates of Monterey.
These varietals allows Cima Collina to grow Cabernet in the warmer areas of Monterey and still grow Pinot Noir and Chardonnay in the ocean cooled and windy areas that these varietals enjoy.
 

Stop in at the Carmel Visitors Center on San Carlos and Fifth Avenue and request a wine walk map and passport pass ($65) so you can tour and taste at seven wine tasting rooms all located within a few blocks.

The Annual Monterey Wine Festival
You could spend a lot of time exploring Monterey County wineries, but if your in Carmel or Monterey in June, be sure to take in the Monterey Wine Festival. Here you can sample wines form over a hundred possibilities and chat with fellow wine lovers and enjoy unending light appetizers and calamari.
The festival is usually held in the evening and combined with the West Coast Chowder competition. By the time you leave your evening is over, you will have sampled not only the best of the best wines, but chowder too.
Does it get any better for a wine lover?

Monterey County's Eighty Five Vitners
Wines grow well here because of many different reasons and that's why there are at last count, over 85 wine growers from Robert Mondovi to Chateau Sinnet that have settled among other Monterey county wineries, who watch over and nourish an amazing 42 varietals of grapes destined to compliment your dinning room table.
The influence of three factors makes this area perfect for the cultivation of grapes.
The Blue Canyon Effect
The Thermal Rainbow Influence
Perfect Loamy Soil
The cold waters that lie deep in one of the deepest underwater canyons in the world is just off the Monterey Peninsula and cools the region in a way that pleases a wide variety of grapes. The Thermal Rainbow is caused by temperatures that can change up to fourty degrees overnight...again making the grapes happy campers.
The eight different compositions of soil is perfect for grapes and contributes to the lively taste that we all enjoy!
Chardonnay and Pinot Noir grow best here and are the preference for many vintner.
There are twelve tasting rooms in Monterey and Carmel and six wineries within a few miles of Carmel in Carmel Valley. 
Owner Ben Pon of Bernadus Winery, appreciates wine as an art form and his dream  is to make a red wine equal to the finest from Bordeaux. Ben is a Dutchman who could have planted vineyards anywhere in the world, but choose the Carmel Valley for his estate vineyards and winery. 
The Bernardus vineyards can be found in the Cachagua region of the Carmel Valley. Cachagua is the Spanish word Native Americans used for deep or hidden water.  This perception is carried on by Ben as hundreds of live oaks have been preserved to thrive among carefully planted vines. 
Chateau Julien - The French Experience
Just a few miles from Highway 1 in the Carmel Valley, you might stop by the charming and obviously French Chateau Julien wine estate tasting room. Just inside the Carmel Valley on 16 acres of beautifullly landscaped grounds with the Santa Lucia foothills in the background, this tasting room also offers tours of their keg room. Here the wines estate flagship are the Merlot and red blends.



The tasting room is very inviting with lots of old world charm.

If you are planning a wedding at one of the Monterey County wineries, or a big social event, ask to see pictures of the many Chateau Julien wedding and holiday celebrations held in the keg room.

They are spectacular events
Cima Collina Winery and the Santa Lucia Mountains
A little closer to Highway 1 in Carmel Valley Village, you'll find Cima Collina's tasting room representing varitals from ten different vineyards scattered throughout Monterey County wineries.
Consider starting at Cima Collina, drive about a mile and visit with Chateau Julien and then make your way up the valley to Bernadus Winery and tasting rooms, and you will still have time to get back for dinner at the Portebella restaurant on Ocean Avenue in Carmel.
Ask Luis for his recommendation. The duck ravioli is outstanding especially with the right wine from a local vitner.
Relaxation at the End of Your Wine Adventure 
If you think an outdoor Spa experience would be a better idea at the end of your day, your only about a half mile away from the extremely popular Refuge Spa that is neatly tucked into the lush green hillsides of Carmel Valley. I'ts about $35 per person and if you follow each step in this Scandanavian approach toward relaxation, you won't be dissappointed.
When you recover, there will be more Monterey county wineries to visit tomorrow!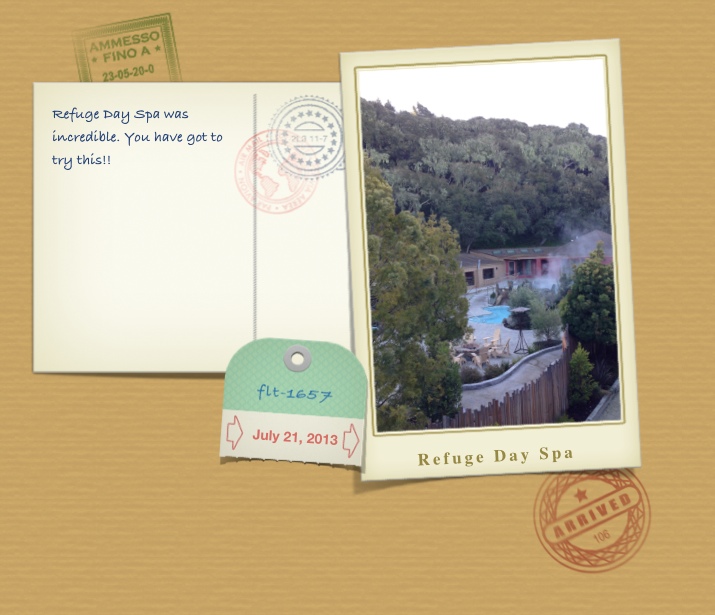 Better yet...drive into Carmel, go down to the beach and just walk. If your really lucky and if you time it right, you might even catch one of those famous Carmel sunsets!