Pebble Beach Equestrian Center
The Pebble Beach Equestrian Center is a very short drive from the Lodge at the Pebble Beach Resort. While not as glamourous as the rest of Pebble Beach, there have been many very happy visitors who took the time to take a short ride into the forest.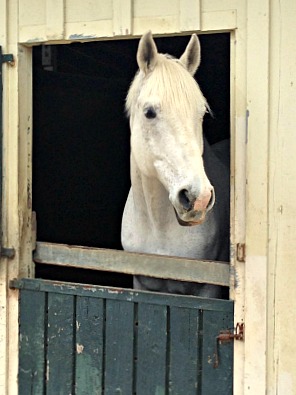 Ready To Ride?
The Pebble Beach Equestrian Center ... Take A Short Ride Tomorrow?
In the morning, and after a much deserved rest, there is more to do before you leave this glorious slice of California Coast.
If you haven't already, take a leisurely ride on the Pebble Beach Resort 17 Mile Drive and enjoy the scenic stops, the beaches and views of million dollar homes.
But you could also stop in at the Pebble Beach Equestrian Center, and take a horse tour of the beaches and Ponderosa Pine trees of the Del Monte Forest.
Most of these horses have been rescued from abusive circumstances ... look for the heart on each these horses. The heart symbolizes the rescue. The heart shape was put there using ice rather than using a painful branding process to identify each animal.
Bring a light picnic snack with you to enjoy when you and your horses pause on the ocean front bluffs.
Bring a little something for the horses too!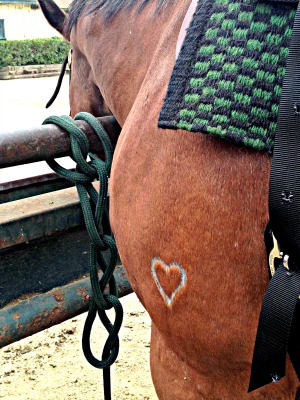 The Distinctive Heart Shape Is The Symbol Of A Rescued Animal
How Much Does A Guided Tour Cost?
You will find yourself drawn to one of the several horses that are waiting for you in the corral. Horses like Romeo, Hope and Dually have a history, and maybe while you are on the trail, your guide can tell you a little more about how the horse you are riding found their way here.
Guided tours in small groups are about 50 minutes in length and are $90 for the experience. Private tours are longer and you will likely be on the trail for about 75 minutes.
Please be sure to call for reservations and ask about current rates. There is a 24 hour cancellation policy and a deposit is required.
Return To Top Of Page Pebble Beach Equestrian Center
Pebble Beach Equestrian Center
3300 Portola Road
Pebble Beach 93953
Daily Hours 8:30 AM to 5:00 PM
Phone: 831.624.2756
Directions: https://maps.yahoo.com/place/?lat=36.56914903755288&lon=-
121.94849967956543&q=Pebble%20Beach%2C%20CA%20United%20States&bb
=36.608293578970944%2C-122.00759410858154%2C36.52998464686272%2C-121.8894910812378&addr=Pebble%20Beach%2C%20CA