Pebble Beach California


Pebble Beach California is well known around the world for world class accommodations, unique cuisine, pampered and attentive attention and stunning beauty.
But there is an interesting history dating back to the 1860's that tell the bigger story of Pebble Beach.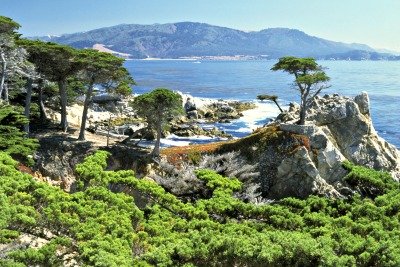 Why Is This Resort Called Pebble Beach ... Cause I Don't See Any Pebbles?


The name of this very small incorporated community comes from wealthy travelers that came here by horse and sometmes carriage from San Franciso to see the stunning scenery so many were talking about.
The granite outcroppings and small beach coves were popular sites for weary travelers to rest and collect agate and polished pebbles from what is now know as Stillwater Cove right along the 9th fairway of the Pebble Beach Golf Course.
There are two, perhaps three other beaches that are part of Pebble Beach that may have been the site where these tiny pebbles were gathered, but Stillwater Cove remains the most likely source for the gathering of these tiny souvenirs.
Stillwater Cove is a little hard to find now and the only washed round things on the beach today, are the expensise errant golf balls from the golf course 10 feet above that roll down to the cove.
Visit Pebble Beaches "Hidden Beach" At Stillwater Cove 
Owned By Mexico and Fished By The Chinese


Chinese imigrants fished here for abalone and small fish right on Stillwater Cove.
Imagine that this spectacular part of the world was acquired by the United States through a land grant from Mexico in 1860 and was destined to become the traveling destination of tens of thousands of visitors each year.
In 1850 this plot of land was bought by an enterprising business man named David Jack who held the property for only a short time and then sold it to the Pacific Investment Company (PIC) who were a group of four wealthy railroad barrons.
By 1982 a scenic road was created for all the visitors who came here and was named the 17 mile Drive. The intent was to attract the rich and to convince them to buy plots of scenic land. Even back then, there were popular stops along the drive and the "Witch Tree and Ostrich Tree were common picnic spots. The Witch tree now fallen, was the backdrop for a movie starring Doris Day called Julie filmed later and released in1956.
This pleasurable excursion for the wealthy required a plan to stay, rest and recuperate and over time was the impetus for the construction of the Hotel Del Monte. The hotel was a rustic one story log cabin style built with massive stone fireplaces at each end of th building. Cottages were available as well as food service, and the popularity of Pebble Beach soared.Eventually the Hotel Del Monte was compoleted and opened it;s doors in 1906.
In 1916 Samuel F.B. Morse, the inventor of the Morse Code and his brother, convinced the owners of the hotel to create a golf course. But before it could be completed the Hotel Del Monte burned to the ground during December in 1917.
Shortly after, Architect Lewis P. Hobart designed the luxurious multi story lodge that was to be known as the Pebble Baech Lodge. The new lodge and golf cours were completed and opened to the public on Feburary 22nd 1919.
In 1979 the Pebble Beach Corporation was purchased by Century FoxTheaters and later in 1999 an investor group including Clint Eastwood, Peter Ueberroth and Arnold Palmer aquired a dominant interest under the name of The Pebble Beach Company.
Learn MORE About The World Famous 17 Mile Drive
Who Lives Here Anyway?


Yes the very wealthy live here but you might be suprised at some of these interesting facts about Pebble Beach California:
Elevation officially only 3 feet above sea level
Over 50% of full time residents have college degrees
Pebble Beach has their own post office. Zip code 93953
Suprisingly there is an impoverished population of 3% of residents
World Class Accommodations


There are few places that offer the kind of posh accommodations available at Pebble Beach California. No matter where you choose to stay you wil be pampered well beyond your expectations.
MORE Information about Pebble Beach Accommodations
Dining At The Waters Edge


Whether your palate desires broiled swordfish, Tri-Tip or Hawaiian-Fusion cuisine, the chefs here are imaginative and highly skilled in preparing only the best for their guests at Pebble Beach.
READ About Dining Choices Here
Pebble Beach California Million Dollar Real Estate


Just like back in the early 1900's this is a place for the wealthy.
The least expensive real estate I could find within the incorporated boundaries of Pebble Beach was a 2,189 square foot home for just under a mil at $975,000. The most expensive home I could find, was priced at 22 million dollars and was a bit small with 8,465 square feet.
Travel to Pacific Grove only a few miles away and clearly outside Pebble Beach ,and you could get a bargin.... an 843 square foot tiny home built in 1905. Selling price today is $515,000.
Everything here is expensive but it was expensive in 1907 as well, and visitors took days to get here. Maybe that $12 glass of beer dosen't seem so bad now since you probaly got here in much less time and with a whole lot less trouble.
Seven Pebble Beach Golf Courses ... One You Can't Even Play On Unless Your Special!


It seems everywhere you turn in Pebble Beach there is another golf course. There are seven courses all situated to take advantage of the Pacific Ocean or the scenic 5,000 acre Del Monte Forest... some are private but most are public. One is so private you need a private membership pass to get in.
Read MORE about Pebble Beaches Golf Courses
Return To Top Of Page Pebble Beach California
When Is The Best Time To Visit?


Traveling to Pebble Beach California anytime is a great escape. It's a romantic destination even when there is the ever present lingering moring fog in the summer. if your calendar is wide open, my recommendation is to plan your trip in late April, early May or between the months of September and November.
Return To Top Of Page Pebble Beach California