Quail Lodge
The Quail Lodge is perfectly located in the sunny Carmel Valley, and has become a favored romantic escape destination on California's west coast since it's reopening in March, 2013 after an extensive 28 million dollar renovation.
The results have been stunning, and the lodge now draws seasoned visitors from all around the world for it's relaxed, quiet and serence setting.
Nestled on 850 lush acres in the oak studded foothills that back up to the Santa Lucia mountain range, and away from the summer fog that sometimes haunts visitors to Carmel or Monterey, your are instantly seduced by the calmness of the verdant fairways and vintage oak trees that dot the landscape.
Welcome To Quail Lodge In The Sunny Carmel Valley!
Restful And Idyllic Accommodations At Quail Lodge
Quail Lodge has always been about capturing the best of California ranch architecture and the new decor with rich warm tones of gold, clearly emphasises that style along with their reputation for pampered attention.
Large rooms with pitched wood ceilings, seperate shower and huge bath tubs, golf course views, and patio rooms with private decks and Adirondack chairs, make this a truly relaxing place to set aside your concerns about daily stresses for awhile
There are about 90 rooms that include 14 suites.
Hardwood floors and designer furnishings, pillow top mattresses, and down comforters guarantee you of a peaceful sleep. Heated floors in the bathrooms, and large windows make a stay here something that causes many visiors to return again and again.
Rack rates are $225 and up, and suites are a little more at $325 and up. Watch for specials as I have seen rates as low as $155 a night.
The lodge is really a perfect place for a starry-eyed getaway or a special occassions like a birthday, anniversary or other milestone event.
There is no spa here but ask about their "Refuge" package that includes your accommodations and a day at the Refuge spa just a few minutes away. Imagine outdoor fireplaces, plunge pools and a Scandanavian approach to total spa relaxation ... this is complete and total relaxation.
| | |
| --- | --- |
| Couple Relaxing In Their Suite | Entrance To Your Private Escape |
| | |
| --- | --- |
| Early Morning Swim? | Enjoy Appetizers And A Cocktail On The "Lake" |
Beautiful Resort-Like Surroundings
Mature Landscaping With Heritage Oak Trees 
During the remodel, architects and landscape designers were careful to maintain the mature landscaping of the lodge and the golf course. Huge heritage oak trees, lakes, brif=dges nd walkways were key aspects of the reedsign.
It's peaceful to walk along the path to your room and there are hiking trails if you think you might enjoy a short hike together.
Edgars Restaurant At The Lodge
Edgars Right On The Golf Course

Edgars Restaurant  is a wonderful restaurant for lunch or dinner if you want to stay close to the lodge.

This is a "Club" restaurant and there are ample decks outside where you can enjoy a meal and watch the action on the putting greens and distant fairways.

The fare is limited but ideal for lunch.

Green umbrellas shield you from the sun and adds to the tranquil feeling here.

The clam chowder with bacon is not to be missed as is the grass fed burger and fries or onion rings.



Edgars is an organic and sustainable restaurant so much of the produce and meat used in the restaurant are from local farms and ranches.
Favorites at Edgars include: 
The grass fed burger @$16
Large ravoli and foraged mushrooms @ $18
Live rod caught fresh fish @$28
Bowl of onion rings @ $9
Edgar's is also celebrating 50 years at Quail Lodge, and has a dinner special that includes salad and soup, an entree for two and dessert all for a $50 bill. If you decide to stay at the lodge and don't want to venture outside the valley, the special is a reasonably affordable dining option.
Hours:
Happy hour 4 to 6 Pm
Lunch 11 to 5 and dinner 5 to 9 Pm.
My recommendation is to have the burger and onion rings and maybe the beet salad  for lunch, and check out the restaurants in Monterey for more adventure. If you really want an interesting dining experience, plan on a visit to Restaurant 1833 in the historic section of Monterey for a clever approach to intimate dining. 

The Lounge Bar And Fireplace
Before your dinner reservations, stop in at the lounge at the lodge for some light appetizers and a beverage. It's a very amorous setting, especially when the fireplace is roaring and you might find yourselves spending more time here in long conversation and forget about dinner.
| | |
| --- | --- |
| The Lounge "Bar" For A Relaxed Cocktail | Lounge Bar Fireplace ... Perfect After The Sun Goes Down |
Quail Lodge Signature Events
There are a number of what are referred to as "signature events" at "Quail" that are generally scheduled in the summer or fall months. These are very cleverly orchestrated events that add to your enjoyment at the lodge:
The Quail Motorsports Gathering- Classic and vintage automobilles of every persuasion from around the world ... local food and wine ... held during 10 days in Mid August
The Quail Rally-Tour the backroads of the Carmel Foothills in vintage automobiles ... during the month of August
The Quail Motorcycle Gathering- Pre and Post World War11 motorcycles and racy bikes ... during the month of May
The Quail Ride-One hundred mile race through the Monterey Peninsula ... during the early fall
| | |
| --- | --- |
| Spend A Day In The Foothills With Your Land Rover | Look For This Sign |
In addition, the Land Rover Experience is available all year round on the grounds of Quail Lodge. Spend a day driving a Land Rover over an obstacle course that will test your four wheel abilities.
Stunning Location For A Romantic Wedding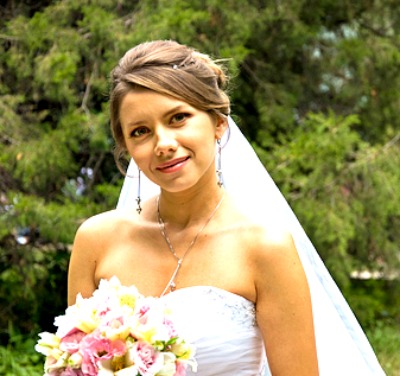 Beautiful Bride Just After Her Wedding Ceremony
Quail Meadows is a very private part of the real estate development that includes the lodge, and is an ideal perfectly quiet and serene setting for a fabulous wedding. The meadow is part of a gated area not open to the public, and includes a large lake, rolling oak tree studded hillsides, and even about a dozen ducks.
There is a beautiful barn structure in Quail Meadows or the wedding party can make use of the Quail Lodge Country Club Ballroom overlooking the golf course. Ask your wedding represenative to show you the videos taken of weddings held here in the past, so you get a perfect idea of how everything will look.
Wedding and event planners at the lodge can assist in orchestrating all of the bride and grooms needs. Planners can accommodate from 50 to 200 quests and arrange for a dance floor and stage if you desire. 
Package wedding services are arranged in three tiers to suit all sizes and desires of the wedding family.
Quail Lodge Golf
Golfing at Quail Lodge is so much better since the complete overhaul of this course in 2013.
Read MORE about Golf at Quail Lodge 
How Do I Get To Quail Lodge?
Private Patios For Morning Breakfast
Quail Lodge is easy to find. From Highway1 south of Monterey, turn right on Carmel Valley Road until you arrive at Valley Greens Drive and make a right turn. Quail Lodge is about a 1/2 mile down the road.
Quail Lodge
Carmel Valley, CA  93923
8205 Valley Greens Drive
831.624.2888
http://www.mapquest.com/maps?name=Quail%20Lodge%20Resort%20&address=8205%20Valley%20Greens%20Dr&city=Carmel&state=CA&zipcode=93923